A Southern Charm Guide to Charleston
A Southern Charm Guide to Charleston
Since I started watching Southern Charm, Charleston has been on my bucket list of Bravo-approved cities to visit. So when my friend (and fellow SC fan) Amanda and I decided to take a trip together this spring, a visit to Charleston was a no-brainer. We of course hit up a ton of destinations from the show/the casts' Instagrams, so for the good of Bravo-kind, I figured I would put together a Southern Charm-inspired travel guide to the city (which obviously ended up containing more shopping than anything else). To find out where we went, ya'll gotta keep reading below. 😉 
Fashionably,
Faryn
P.S. Are we now a direct competitor with Landon's travel site Roam Trovare?
EAT: NICO
201 Coleman Blvd, Mount Pleasant, SC
Chanel CC Filigree Small Flap Bag // Forever 21 Striped Dress // Saks Fifth Avenue Pom-Pom Wedges
To get to Nico from Charleston, you have to take a trip across the Thomas Ravenel Bridge to an area called "Shem Creek" in the city of Mount Pleasant. The creek is poppin' with a ton of cool restaurants/bars by the water, so it makes total sense that Naomie's family would build their restaurant there. 
I just realized that the striped dress I wore to Nico unintentionally matched the nautical theme of the restaurant (okay, maybe it was intentional). I also just realized that the bag I wore matched the French vibes – that one I swear I didn't plan (at least not on a conscious level).
I literally never order oysters but after seeing the cast order them at Nico on Southern Charm, I had to get them as an appetizer – and they were delish! I also ordered the "Le Fleur" cocktail, which had a refreshing lavender-coconuty taste.
For the main course I ordered the lobster roll with fries, which was as heavenly as it looks. The lobster tasted incredibly fresh and the fries were the perfect amount of crispy. Best meal of the trip hands down; the only downside is that Naomie wasn't there! 
SHOP: GWYNN'S OF MOUNT PLEASANT
916 Houston Northcutt Blvd, Mount Pleasant, SC
As supporters of Kathryn and her burgeoning fashion career, we of course had to pay a visit to Gwynn's of Mount Pleasant. Although Kathryn wasn't there at the time, we met her friend Madison (the store owner's daughter who is also on the show), who was super sweet.
The buyers for Gwynn's must watch Bravo religiously (which I'm pretty sure they do considering their store is now on it), as they carry a ton of housewife-y brands like Shahida Parides, Camilla, Milly, Alice + Olivia and vintage Chanel.
Camilla Udaipur Print Dress // Jimmy Choo Finley Bag
Here I am (casually) lounging in the bar area of the change rooms in a Camilla dress accessorized with a Jimmy Choo bag. Although I'm glad I was able to have a Pretty Woman moment at Gwynn's like Ashley, I'm not thrilled about the fact that I didn't have Thomas' credit card to fund any purchases.
SHOP: LILLY PULITZER
251 King St, Charleston, SC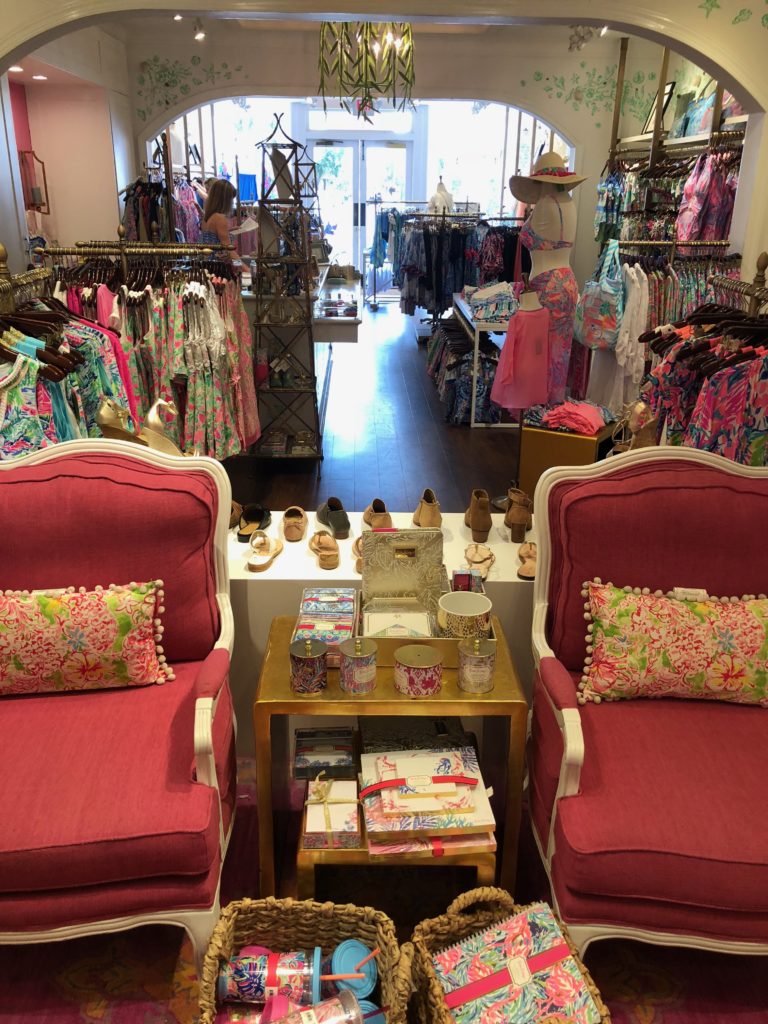 If any fashion brand was to become the official sponsor of Southern Charm it would without a doubt be Lilly Pulitzer – the ladies pretty much wear it in every episode. So I of course had to take a step inside the brand's Palm Avenue store on King Street to check it out.
Lisi Lerch Earrings (Multiple Styles)
As any eagle-eyed viewer of the show knows, Lisi Lerch and Lilly Pulitzer go together like Craig and Gizmo (pretty much a match made in heaven). So it makes total sense that they would sell Lisi Lerch statement earrings (which we've reported on more times than we can count) at the store.
Lilly Pulitzer Easton Dress // Lilly Pulitzer Pink Fringe Clutch
Coming from Toronto where the official color of the city is black (or at least for me it is), I'm not used to wearing items that contain a lot of color or bold prints. However after visiting the Lilly Pulitzer store, I think I can get used to the Southern way of dressing – I ended up getting this cute sundress for summer.
SHOP: MARIS DEHART
32 Vendue Range #100, Charleston, SC
Maris DeHart is one of Kathryn's favorite stores in Charleston (besides Gwynn's of course), and if you scroll through her Instagram feed, you'll see her modeling a ton of cute pieces from the boutique. The saleswoman even told me that they named a dress "The Kathryn" after her, which you can shop here for only $88.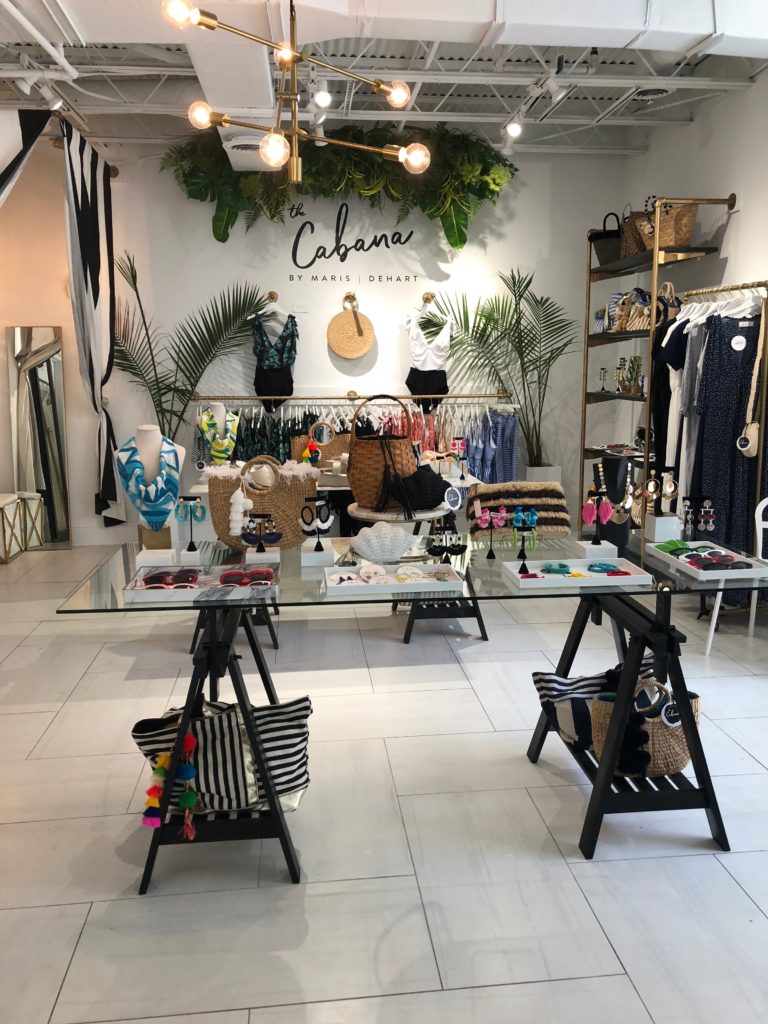 In addition to the main boutique, the store has a connecting retail space called The Cabana which carries the cutest swimwear and beach accessories.
JADEtribe Basket Bag (Shop Similar) // &merci Striped Ruffle Top (Currently Not Available Online) // Fidelity Denim Belvedere Crop Jeans (Shop Similar) // Intentionally Blank Nude Slides (Currently Not Available Online)
I took the liberty of embracing my inner Kathryn and styling an entire outfit from head to toe. I ended up getting the top which was $74.
SHOP: HOUSE OF SAGE
51 George St, Charleston, SC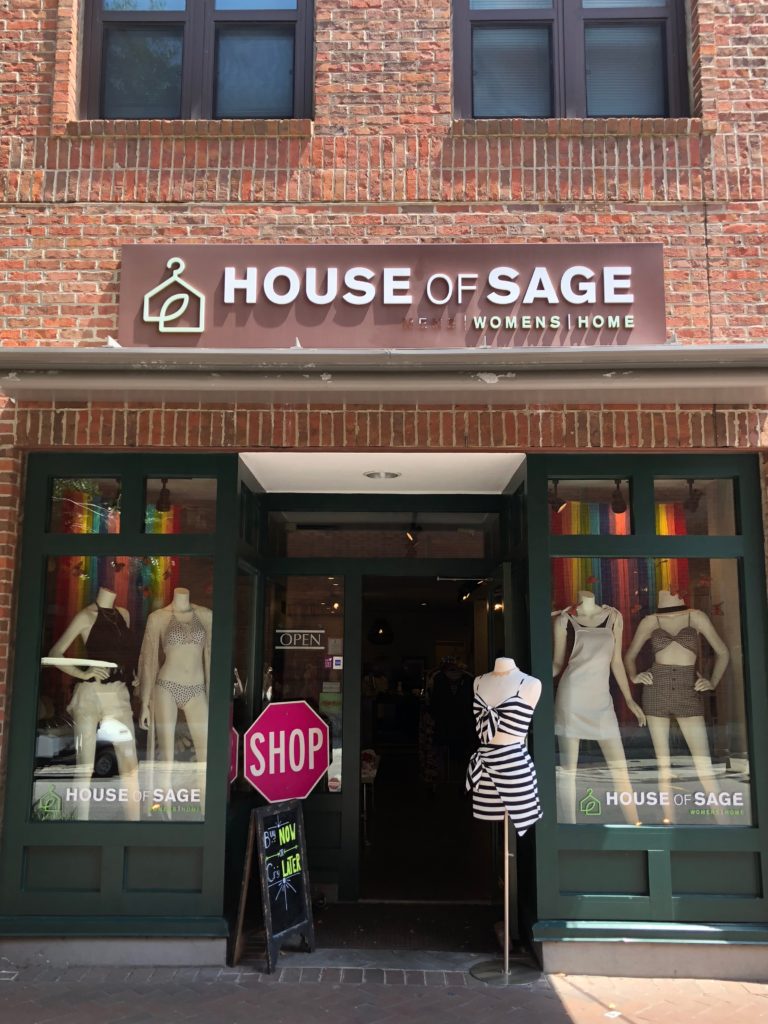 House of Sage is a boutique I discovered from being a heavy stalker of Cameran's Instagram. I loved the boho-chic vibe of the store, and the affordable prices didn't hurt either (thanks Cam!)
Of course after feeling inspired by Lilly Pulitzer to dress more colorfully, here I am reverting back to the dark side. With its boat neck, middle V and frilly bottom, this summer LBD (which only cost $50) was just too good to pass up. I've already worn it a bunch of times, so it's turned out to be a great investment!
VISIT: PATRICIA'S HOUSE
94 Rutledge Avenue, Charleston, SC
Patricia's house (also known as the historic Isaac Jenkins Mikell House), was somehow even more gorgeous in person than it appears on television. For some reason my friend and I thought we'd be the only people stopping there for pics, however we encountered a lot of other fans taking pics too. As it turns out, Patricia's house is pretty much the White House of Charleston.
Dynamite Floral Dress // Chanel Sunglasses
Just waiting for Michael to let me in for my afternoon cocktail with Patricia!
Feel free to comment with questions on my trip below!
Have you seen fashion on the Real Housewives or any other Reality TV style you can't live without? Post a comment below, Follow @BigBlondeHair on Instagram, tweet @BigBlondeHair or leave a comment on  Big Blonde Hair's Facebook.