Brandi Glanville's Lace Print Cowl Dress
Brandi's dress and hair flower from Lisa's party? Micheline 
Well Micheline, while pleasantries such as "please" and "thank you" are normally required for me to answer a request, I also liked Brandi Glanville's 1920's inspired look from Lusa Vanderpump's Villa Blanca party, so this time, you're in luck. Next time, I'll be expecting pleasantries, and a bribe.
Brandi Glanville's Lace Print Cowl Dress at Lisa's Party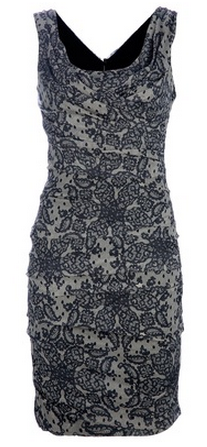 Dolce & Gabbana Lace Print Stretch Silk Dress
Style Stealer:
Have you seen Real Housewives or other Reality TV Fashion that you can't live without? Post a comment below, tweet@BigBlondeHair or leave a comment on The Big Blonde Hair Blog's Facebook page. Be sure to follow "Big Blonde Hair" on Instagram !