Carlton Gebbia had looks super pretty and sexy in her tan and blue ombre mini dress on tonight's Real Housewives of Beverly Hills take Palm Spings Part Deux. The colors are a great combo with her skin tone and hair, and of course her great body doesn't hurt the look either. And now I totally understand why it seemed like Brandi wanted to get her dress off; I mean I'm sure she just wanted to borrow it for herself.
Carlton Gebbia's Tan & Blue Ombre Dress in Palm Springs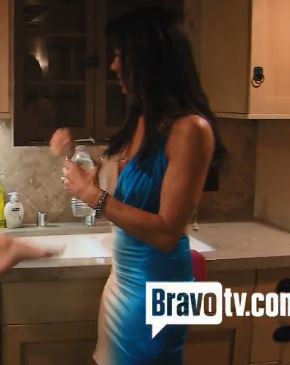 Savee Couture Chain Back Dress Available Here in White
Style Stealer:
Savee Couture Ombre Open Back Top with Chains Available Here
Have you seen something on a Housewife or celeb you can't live without? Post a comment below, tweet@BigBlondeHair or leave a comment on The Big Blonde Hair Blog's Facebook page.