Chrissy Teigen's Cravings: Hungry For More Review
Chrissy Teigen's new cookbook, Cravings: Hungry for More, the follow up to her first cookbook, Cravings: Recipes for All the Food You Want to Eat, is every bit delicious as anticipated! The first thing I did when my copy arrived was grabbing a stack post-its, some tea, and began reading. I decided I would first tag all the dishes that looked good and I thought I might like to try cooking for this review and after tagging around 65 recipes, I had to go back and consolidate down to a reasonable number. I settled on 5 recipes; Blueberry Cream Cheese Pankcakes, Khao Tod (Crispy Rice Salad) with Fried Eggs, Cheesy Chicken Milanese,  Simple Skillet Broken Lasagna, and Soft Pretzels. Keep reading for my take on all five!
See you in the kitchen,
Chelsie

Blueberry Cream Cheese Pancakes
I'm a sucker for breakfast food, especially breakfast for dinner, so, this recipe was a no-brainer to try. I typically make the super easy, just add water kind of pancakes but Chrissy's pancakes not only looked fancy but didn't seem to be too difficult that I was intimidated to try. Allow yourself some prep time for this one and there may be some items you don't have on hand so you'll need to prepare ahead of time, it is all worth it. Once the creamy cubes of cream cheese hit your taste buds you may never eat just-add-water pancakes again!
*Tip: Take the time to cut the cream cheese into small pieces, its worth the extra time.
Khao Tod (Crispy Rice Salad) with Fried Eggs
Chrissy is on to something special with her Khao Tod dish. The crispy rice cakes – out of this world. This recipe took a little more time primarily because of the different steps and frying, but, if you have someone to impress, this dish will do the trick. All of the different flavors ebb and flow so well but the rice cakes are the real star. Chrissy is spot on, you get the ultimate crispiness with the cakes versus making rice balls and let's be real, fried, crispy goodness is the best part of this dish. I used my cast iron pan to fry for even, consistent heat.
*Tip: Day old rice works best for this recipe and also cuts down on prep time day of. 
Cheesy Chicken Milanese
Chrissy's recipe for Cheesy Chicken Milanese is seriously delicious. It was probably the easiest and quickest dish I made from Cravings 2 out of the five I chose and could be a fast, weekday dinner. The prep for this recipe is pretty simple and calls for both panko and regular bread crumbs for extra crunch. It's like fried chicken but more elegant plus it's on a salad so that's healthy, right? And the cheese, ugh, you guys, the cheesy that flows out of the chicken middle when you cut it open. Yum. This dish is one of my favorites.
*Tip: The flatter the chicken, the easier to fold over. Get to pounding. 
Simple Skillet Broken Lasagna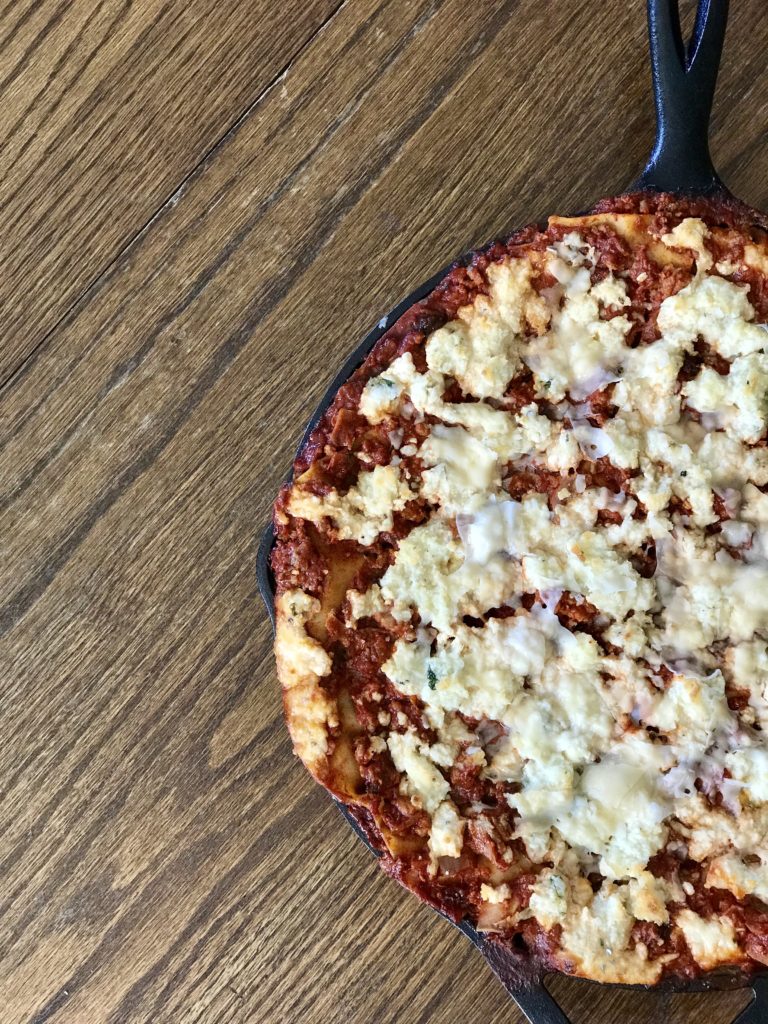 Italian food is my jam. I love making it and I love eating it. A good lasagna is probably my favorite Italian dish and Chrissy's Simple Skillet Broken Lasagna doesn't disappoint. Growing up my mom always made whatever meal my brother or I wanted for dinner on our birthdays. I always wanted lasagna. My birthday is in July. My poor mom never wanted to make lasagna in the middle of the summer (we lived in AZ) but she did every birthday. Eventually, my parents started taking me out for dinner on my birthday instead of cooking, I always chose the closest Italian place. A lot of people don't like making lasagna because it can be time-consuming, but with no-boil noodles, half of the hassle is removed.
*Tip: Make sure to use an oven-safe skillet (I used my cast iron skillet) that is 12″ wide so you have space to layer. I also overdid the cheese on top (I should have put more in the layers) and will adopt the less is more analogy for the topping next time.
Soft Pretzels
I love soft pretzels. I order them any chance I get at restaurants but I've never made them at home, until now. So easy and fun! I did have to YouTube how to fold a pretzel but that is also super easy to do. You do have to account for the time the dough needs to double even though you're using instant rise yeast (give yourself 2 hours) so it's not a quick snack, but it is very much worth it. I'm more of a salted pretzel and cheese gal but good Lord, these iced, cinnamon sugar versions are divine. The best way to describe them would be like a dense doughnut and best served fresh.
*Tip: Frost the entire front side of the pretzel by dipping face down THEN sprinkle with the cinnamon sugar all over for a super sweet, delicious treat! 
***************************
If you don't have Cravings 2 yet, you're missing out. I can't wait to keep cooking my way through the book. Enjoy!
Click Here To Shop Chrissy's Cravings 2
Click Here To Shop Chrissy's First Cookbook, Cravings
Get the Cast Iron I used for the Lasagna and Frying the Rice Cakes
Click Here to Shop Chrissy's First Cookbook, Cravings.
Click Here to Shop Chrissy's Cookware at Target
Have you seen fashion on the Real Housewives or any other Reality TV style you can't live without? Post a comment below, follow @BigBlondeHair on Instagram, tweet @BigBlondeHair or leave a comment on  Big Blonde Hair's Facebook.