Don't Be Tardy Kids Fashion: Season 5 Episode 1
Yeah, yeah, yeah maybe I've got baby on the brain because I'm trying to type as quietly as possible to not wake one up and finish this post, but I couldn't resist checking into Kim's kiddo's fashion on last night's "Don't Be Tardy" Season 5 premiere. After all, my little on is asleep wearing a Kanye "Crawl Before You Ball' onesie, so when I saw Kane's Biggie "Sicker Than Your Average" baseball tee I just had to take a peek…And then that peek spiraled a little… Now if only I could keep track of all their damn names 😉 But don't worry everyone, it's not all about the babies, so I'm on to Kim's wardrobe, who's name I'll never forget!
More kids items you like? Comment below! I'll update the post as I find more!
Don't Be Tardy Kids Fashion: Season 5 Episode 1
Kane's "Sicker Than Your Average Baseball" Tee
Than You Average Baseball Tee Available Here
Kaia's "Glitter Is My Signature Color" T Shirt, Black & White Striped Headband with Gold Bow
Gold and Black Bow Headband Available Here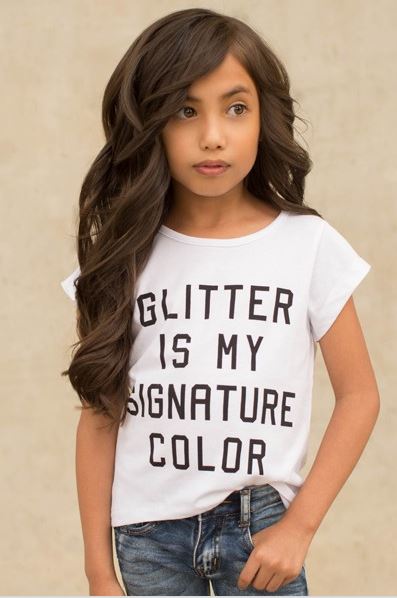 Glitter Is My Signature Color Kids Tee Available Here $28.50

KJ Biermann's Black & Grey Star Zip Up Hooded Sweatshirt
Nununu Kids Star Zip Hoodie Available Here at Amazon
Kaia's Black Quilted Coat & Heart Hat "Driving" Her Pink Car
Burberry Mini Portree Quilted Jacket Still Available in Red Here
Similar In Stock in Black:

J Crew Girls Heart Hat Sold Out
Style Stealer:
Girls Heart Hat Available Here
Shop Other Fashion Seen on & Inspired by Don't Be Tardy Below:

Have you seen fashion on the Real Housewives or any other Reality TV style you can't live without? Post a comment below, tweet @BigBlondeHair or leave a comment on  The Big Blonde Hair's Facebook page