Erika Girardi's Cat Eye Sunglasses at Her Publisher
Season 8 Episode 10 Real Housewives of Beverly Hills Fashion
Erika Girardi wore her cat eye sunglasses inside her publisher meeting at Simon and Schuster because of her allergies, and selfishly, I'm glad she used them in instead of Claritin because they are much chicer than an allergy pill. Although she was intimidated by the crowd, she did an amazing job of blending, being herself and looking for an ally in the meeting, rather than trying to look like she wasn't feeling like a fish out of water.  I found this totally charming and extremely intelligent on her part.
While many people in Beverly Hills (and life) may say "Fake it til ya Make it", I say you end up with the best opportunities in the most successful situations by just being yourself. If it's a fit, regardless of whether it's a job or a friendship, it will only work out if you're being true to you. If you're fake and try to act like you know more or have more it will make you unhappy and never ends well.
Okay, enough like lessons from mama Big Blonde Hair, lets get to the sunglasses.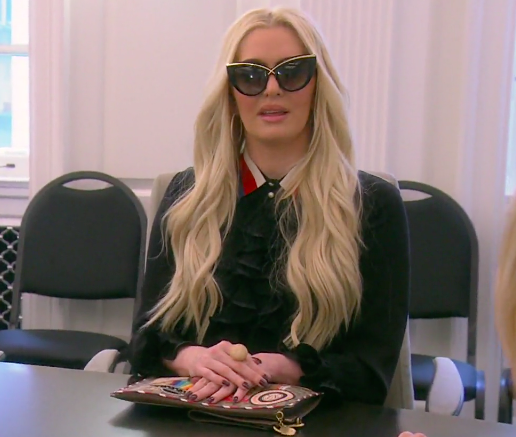 Click Here to Shop Her Anna-Karin Karlsson Cat Eye Sunglasses
Click Here to Pre Order Her Book Pretty Mess
Style Stealers:
Click Here to Shop the Oversized Cat Eye Sunglasses
Shop Other Fashion + Style Recently Seen on Bravo TV:

Have you seen fashion on the Real Housewives or any other Reality TV style you can't live without? Post a comment below, follow @RealityStarStyle on Instagram, tweet @BigBlondeHair or leave a comment on  Big Blonde Hair's Facebook page