It seemed like GG was still sliiiggghtly fired up at Asa while talking about their fight on tonight's Shahs of Sunset, so I'm thinking there is definitely more drama to come with these two. My advice for GG? If you're going to throw down, ditch the fringe tank, the grab-ability will give your opponent something to clutch onto, and it's a totally unfair advantage. Plus I wouldn't want it to rip. Hey ladies, just call me the Don King of fashion.
Click here to enter our GIVEAWAY for a decadent, all-natural luxury soap package from Uptown Frills! 
GG's White Indian Chief Fringe Tank Top Talking About Asa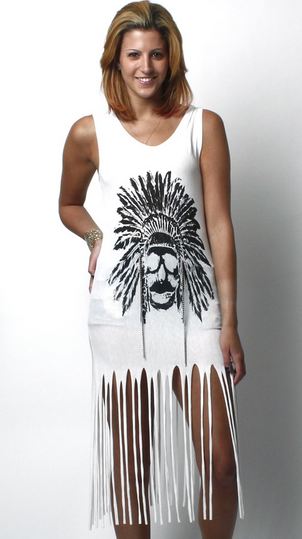 Indian Chief Fringe Tank $44 Love Melrose
Have you seen something on the Real Housewives or any other Reality TV fashion you can't live without? Post a comment below, tweet @BigBlondeHair or leave a comment on  The Big Blonde Hair Blog's Facebook page.