Hi everyone! Guest blog today! Stylist and Personal Shopper Maggie Nice of REAL Style Chicago is going to let us in on her Top 7 Spring 2012 Celeb Inspired Trends. It's always nice to have a fresh opinion on the Big Blonde Hair Blog. Especially when that opinion has fabulous fashion sense. Enjoy!
*************
I was very excited when Lauren asked me to guest blog the Top Trends of Spring 2012 on one of my guilty pleasures, The Big Blonde Hair Blog. We both share a mutual love of fashion & style and I couldn't wait to get started on my research. Everyday is a fashion show in my house and walking around the city when I am most inspired. I hesitate to use the word "trend", mainly because" trendy" is often misinterpreted as something that will only be stylish for a short period of time. However, the majority of the looks for spring are actually classics, reinvented into more modern silhouettes.
It's going to be a VERY visual spring and I couldn't be happier. Everything from Animal Prints (try a Dalmatian or Python print) Batik & Tropical Patterns,  Chevron Stripes, Garden Party Florals , Geometric Prints &  Polka Dots! Did I mention Floral Patterns?  I will admit I was hesitant, however, after trying on a few I did find some modern patterns in current silhouettes.
As for color this spring, you can do no wrong…color is everywhere!! From pastels to primary's, expect to see exaggerated usage of color in clothing, cosmetics & hair color. The GOOD news is your colored denim will make it another season and if you're up for stepping out of your comfort zone, try a leather item in color!!  Nothing gives me more satisfaction than translating trends and creating "real solutions for real people". For more tips, trends & style inspiration, Find "REAL Style | Chicago" on Facebook!!
Wishing everyone a happy & stylish spring season- Maggie Nice of "REAL Style | Chicago" Personal Shopping Services
"REAL Style | Chicago's "7 Hottest Spring Trends" (2012)
1.)    Asymmetrical Cuts & Cut-Out designs
2.)    Envelope Clutch
3.)    Jumpsuit
4.)    Pastels & Prints
5.)    Peplum Ruffles
6.)    Pleats
7.)    Relaxed Summer Suit
 1. Asymmetrical Cuts & Cut-Out's
Gwen Stefani wearing a dress by Carven; this piece features both an asymmetrical neckline & hemline. I love the ballerina bun and statement shoe keeping the focus on the asymmetry/ cutouts of the dress. 
The Africa TEE, $44.50 http://www.metowestyle.com/
Sleeveless Asymmetrical Dress, $17.80, Forever 21
B Brian Atwood Consort Metallic Asymmetrical Platform, $325, saksfifthavenue.com
TOPSHOP Ribbed Heart Back Prom Dress $85, topshop.com
Geo Peekaboo Top, $24.80, www.forever21.com
Gold Laser Cut Stretch Bangle $22, missselfridge.com
2. The Jumpsuit :
Kim Kardashian in a Black Halo Strapless Jumpsuit, $117 shopbop.com  J .Lo/Jennifer Lopez making sequin jumpsuit work for an evening or more formal look
 Say goodbye to the romper and hello to the jumpsuit. The jumpsuit is a super comfortable and stylish alternative to the maxi-dress or romper. It is so versatile and the perfect piece to transition from "day to night". Try pairing a jumpsuit with flats and a cute belt for daytime and platform sandals and a statement necklace for evening.
  3. The Envelope Clutch:
Rihanna's Fendi Envelope Clutch takes a basic white blouse and jeans from boring to buzz worthy.
The Envelope style clutch transforms any outfit to the next level. I love that it has the power to dress up a casual look but can also be the perfect accent piece to elegant looks as well.  Different size options make this perfect for everyone to incorporate into their lifestyle and some even feature a chain strap or cross-body option.
Stella McCartney "Falabella "Python Print Fold-Over Clutch, $869, mytheresa.com
Jimmy Choo Candy Acrylic Shoulder Clutch, $495
ASOS Slot-Through Portfolio Clutch, $37
Black Envelope Clutch Bag, $20, Forever 21
 4 Prints & Prints:
Lauren Conrad: Pretty in Pastels (loving her light pink beanie with baby blue nails)
Leonard Vintage Pastel Sunglasses, $135, farfetch.com
Pastels… aaaaahhhh, nothing says spring like a pretty pastel. Pastel colors are a soft approach and a stark contrast to the "in your face" neon shades of last season. For those who are less than eager to wear a mint or yellow hue, try beige or nude instead which still keep things light and super chic. As for PRINTS, there is no need for an introduction. Floral Prints are BIGGER and better than ever and showing up in all colors and sizes. Bags, Belts, Pants, Shoes, Socks, Trenches, I could go on forever (but I won't).   Personally, I'm still hooked on the starry print pattern made popular by Dolce & Gabbana, however, I am also looking forward to getting my hands on a "Pucci-esque" print's  or nautical stripe.
TOPSHOP Drop Back Sleeveless Shirt, $60 &  Acid Yellow Denim Legging, $40
Illamasqua Nail Varnish, $14 each, Sephora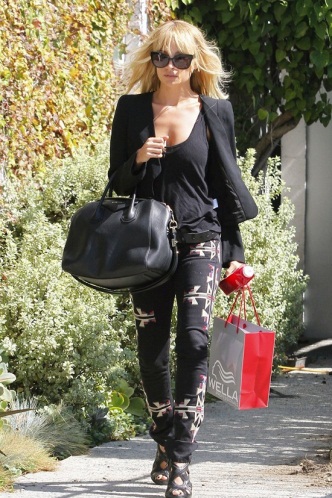 Nicole Richie rocking a pair of print jeans, Isabel Marant 'Renell' Embroidered  Skinny Jean, $316 Net-a-porter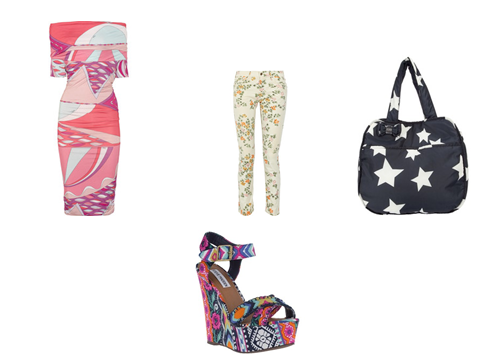 Emilio Pucci Off-the-shoulder printed jersey dress, $1,350, netaporter.com
Citizens of Humanity Floral Jeans, $188, Barneys
SONIA BY SONIA RYKIEL star print bag, $314, farfetch.com
Steve Madden "Winona"$99, jildorshoes.com
  5. Peplum Ruffle
A WHAT?! Well, It is very possible you have may already have an item in your closet featuring this super chic detail.  A peplum ruffle is a short overskirt or ruffle that falls from the waistline of a blouse, dress or jacket. You +1'd this publicly. Undoanan Not only does it add "instant" curves, but it shrinks the waist by bringing definition to the area. This trend is a way to be ultra-feminine in a modern & polished way.
Celeb inspiration: Blake Lively in Victoria Beckham Peplum Dress ($2,135 – net-a-porter.com)
SOHO Central Peplum Blazer, $40 yesstyle.com
House of Muse ¾ Peplum Dress $69
New York & Company Ponte Peplum Top, $18
Aqua 'Klingon' Peplum Skirt, $98, Asos
 6. Pleats 
Olivia Palermo a true "style star" is a repeat fan of the pleated skirt.
Accordion Pleats are everywhere: Pleated maxi skirts, tiered accordion dresses and A-line strappy pleated tanks.  Ever since Carrie Bradshaw/SJP wore the pleat dress in the original "Sex and the City" movie, I couldn't get enough. It looks as if the feeling is mutual because pleated pieces are here to stay. The good news is… pleats create a shape that moves with the body and is one of the easiest ways to look current and fashion forward.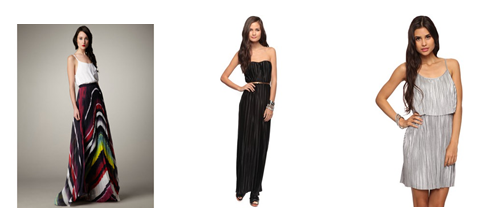 Alice + Olivia Shannon Maxi Skirt, $484, Neiman-Marcus
Pleated Black Maxi Dress, $24.80, Forever 21
Pleated Silver Dress, $27.80, Forever 21
BCBG Bonita Pleated Chiffon Skirt, $178
7. The "Short Suit" or Summer Suit 
Apparently a huge fan, "short suit" pioneer, Kourtney Kardshian shows us how to rock a summer suit without trying too hard (below).
You can select a suit set or mix separates to create a look all your own. The key is to choose a less structured blazer with a tuxedo-style short.  I absolutely LOVE her style and think Kourtney chose great pieces for a more "casual look": a striped blazer, neon blouse and white short. For those who need a more office appropriate look, incorporate a pencil skirt, cropped trouser or wide leg pant with a light & breezy blazer.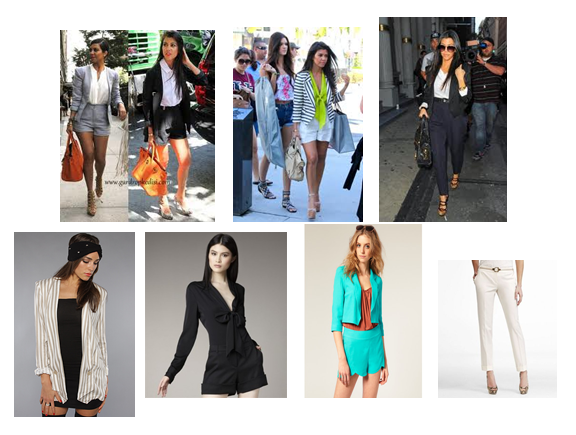 RVCA Stripe Cult Logic Blazer, Color: Vintage White, $91.95, karmaloop.com
Rachel Zoe Cuffed Tuxedo Short, $130, Neiman-Marcus
Asos Cocoon Suit Jacket, $27
Express Editor Ankle Pant, $59.90
Incorporate these trends in your personal wardrobe and you'll be stepping out in REAL Style in Spring 2012
 ********
Thanks for stopping by the BBHB Maggie! Don't forget to check out REAL Style Chicago's Facebook page for more info on today's top looks.
Check out our newest giveaway for a Leopard & Bling Cell Phone Case by Real Housewives of New Jersey Favorite Dazzle Candy! LOVE!
 Have you seen something on a Housewife or celeb you can't live without? Post a comment below, tweet @BigBlondeHair or leave a comment on  The Big Blonde Hair Blog's Facebook page.