Kris Jenner's Royal Blue Track Jacket
Kris Jenner's Royal Blue Track Jacket Talking To Kim and Cici
Season 15 Episode 13 Keeping Up with the Kardashians Fashion
Kris Jenner's royal blue track jacket talking to Kim and Cici was surprisingly a men's jacket! Speaking of men, I am always stealing my boyfriend's sweatshirts and sweatpants. I think I have to start being like Kris and beat him to the punch and start shopping in the mens section for all my comfort clothes needs.
Now speaking of boyfriends (or lack there of), Tristan met and had a conversation with Khloe's leading ladies and from the sound of it it maybe Khloe won't be borrowing her "boyfriend's"clothes. That's okay she's handled this whole scandal like a true champ and doesn't need a man for her comfort, just like Kris and her track jacket.
Sincerely Stylish,
Jess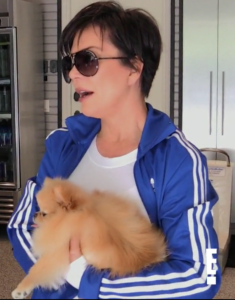 Click Here To Shop Her Men's Adidas Originals Blue Track Jacket
Style Stealers:

Shop Other Items Seen on Keeping Up with the Kardashian:

Have you seen fashion on the Real Housewives or any other Reality TV style you can't live without? Post a comment below, Follow @BigBlondeHair on Instagram , tweet @BigBlondeHair or leave a comment on  Big Blonde Hair's Facebook.