Kristin Cavallari's True Roots Cookbook Review
Kristin Cavallari's debut cookbook, True Roots, is packed full of delicious, health-conscious recipes for the modern home cook. Focused on an 80/20 lifestyle (notice the word diet isn't used?) and emphasis on real food like grass-fed meats, wild-caught fish, organic, and minimally processed foods – Kristin delivers easy, healthy, yummy recipes in True Roots. Food that truly makes you feel good, have more energy, brighter skin, and better moods, the Cavallari way all about have a healthy relationship with food. I was able to get most everything I needed from my local health food store, with exception to a couple of items (links below).
I chose 5 recipes from Kristin's True Roots Cookbook for my review; Simple but Damn Good Granola, BLT Pasta Salad, Chickpea Fries, Beef Tenderloin with Red Wine Demi Glaze Sauce, and Blueberry Cashew Bars. Read below for more on each!
See you in the kitchen,
Chelsie
Simple But Damn Good Granola
Simple but Damn Good Granola is just that, simple and damn good. I've never made granola from scratch before, I couldn't believe how easy it was! I love having granola with my mid-morning yogurt but it's always been store bought, until now. This is a great base recipe but you could always add other items like dried fruit to your batch. Definitely, something to keep on hand!
Tip: Use the bottom of measuring cup coated with cooking spray to press the mixture flat.
BLT Pasta Salad
You guys, yum. The BLT Pasta Salad is seriously delicious and one of my favorite dishes I made from True Roots.  It's quick, easy, and flavorful. I used a rotisserie chicken for added ease instead of cooking the chicken breasts myself so that cut down on the prep time. The brown rice pasta makes me feel like I'm making a healthier choice without losing the feel of a true pasta salad and honestly, you wouldn't even need to pasta if you didn't want it but I seldom turn down pasta. Great as a side dish, snack, or even a meal in itself, this dish is sure to be a crowd pleaser.
Tip: Use Kristin's recipe for Simple Aoli in the back of the cookbook for fresh flavor. Not a fan of homemade mayo? I used Miracle Whip Light for lower calories and a tangy taste.
Chickpea Fries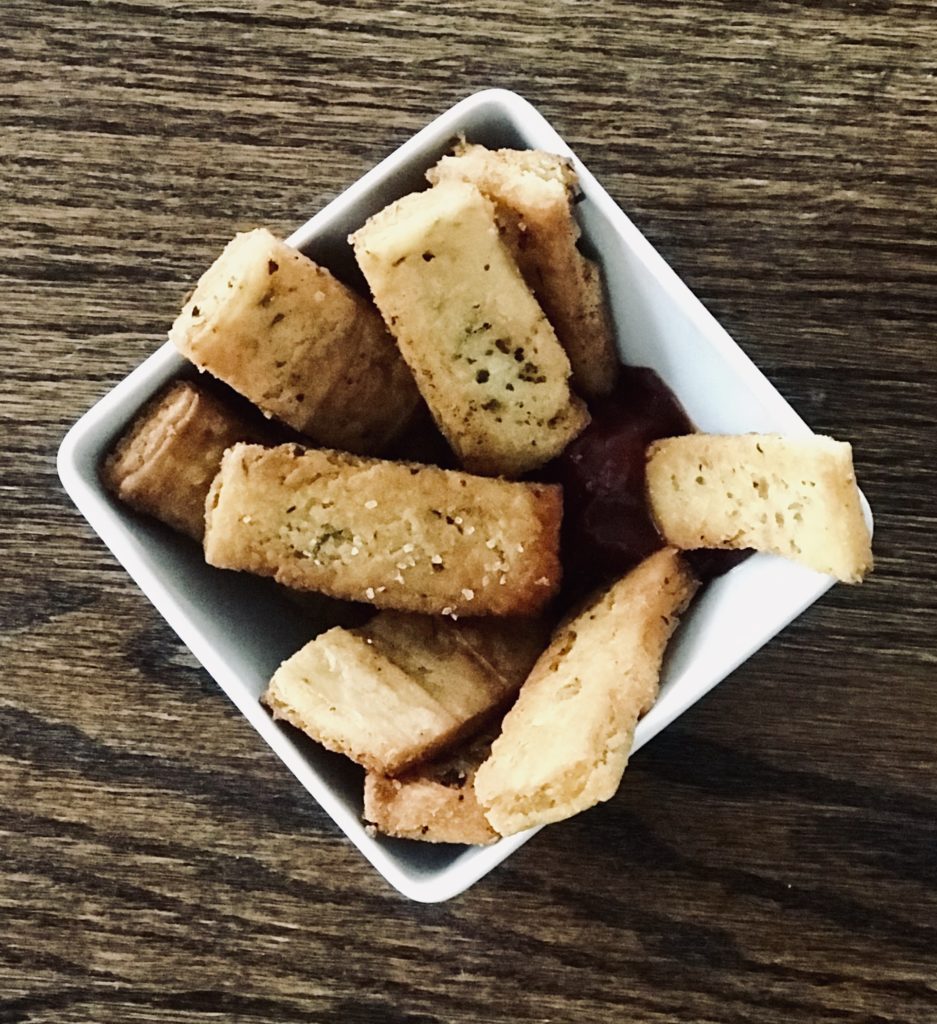 I didn't nail the beauty on this one, but it sure does taste delicious so it doesn't even matter what it looks like, at least that the rule in my kitchen. Great for a mid-afternoon snack or a side to your favorite burger, I guarantee your kids won't even notice they are made from chickpea flour. You'll feel good knowing your new favorite fries are full of protein and fiber.
Tip: If you want your fries to look good like Kristin's, make sure the top of the mixture is smooth and even before you put it in the refrigerator to cool. 
Beef Tenderloin with Red Wine Demi Sauce
Looking for your next crowd pleaser for Sunday night dinner? Look no more, Kristin's Beef Tenderloin with Red Wine Demi Sauce is the sure fire answer. This is the main course to make if you want to impress your dinner guests with a flavorful, tender, and savory tenderloin.  Even better, the red wine sauce that accompanies the beef tenderloin in True Roots is one of my favorites to date. I served this dish with some creamy mashed potatoes and a side of asparagus. There were zero complaints from my guests, only praise.
Tip: Use a wine you love to drink but be sure to save some for the recipe 😉 
Blueberry Cashew Bars
Kristin's Blueberry Cashew Bars are insanely delicious and super easy to make. She's done it again with yet another great base recipe that has variety potential, oh, and after you make these bars,  you'll never want to eat a store-bought health bar again. The only thing I couldn't get at my local health food store was vanilla bean powder but I was able to order it online and have some extra to keep on hand and I wouldn't say you have to have it for this recipe, but it is yummy added in.
Tip: When pulsing your cashew layer in the food processor, you may need to pause to reposition the cashew butter to ensure it is distributed throughout the mixture otherwise your bar base layer will be heavily concentrated in only some areas. 
***************************
If you don't have Kristin's True Roots yet, what are you waiting for?
Click Here To Shop Kristin's Cookbook, True Roots
Click Here To Shop The Hemp Hearts I Used For The Granola and Cashew Bars
Click Here To Shop The Vanilla Bean Powder I Used For The Cashew Bars
Click Here To Shop The Cast Iron I Used For Frying And The Beef Tenderloin
Have you seen fashion on the Real Housewives or any other Reality TV style you can't live without? Post a comment below, follow @BigBlondeHair on Instagram, tweet @BigBlondeHair or leave a comment on  Big Blonde Hair's Facebook.