Kyle Richards' Navy Blue Crochet Trim One Piece Bathing Suit / Monokini / Malliot
with Cut Outs on Instagram
Real Housewives of Beverly Hills Fashion
Kyle Richards' and her gorgeous girls look like they're having an amazing time on their vacation away in Italy, and of course Kyle and Farrah are rocking crochet trim swimwear—the summer's hottest trend—that we can't get enough of. And while I thought I immediately recognized the pieces, I was wrong, because for once these Beverly Hills beauties are wearing looks for less when I thought I had them pegged in the real deal. And while we all love a great price, we'd have to go all the way to Italy for this one, so the cost of the travel might just make the piece by the original designer seem like a much, much better way to go.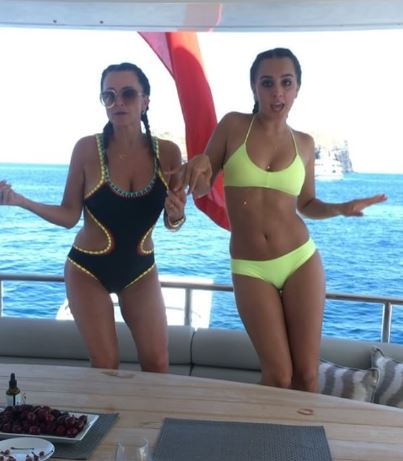 Photos: @KyleRichards18 on Instagram
SIMILAR: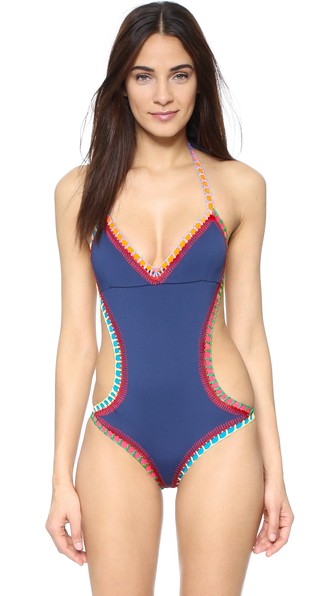 Kiini Tasmin Malliot Available Here
Shop more Kiini suit by clicking the images:

Here's the scoop: Farrah commented that her and Kyle's suits are from "a little hole in the wall shop in Ponza (Italy)", and Kiini commented on Kyle's pic they are "knockoffs" of their line. There are a lot of knockoff version of Kiini suits coming out of China, like the one below. If you chose a knockoff instead of the real deal, just be aware of quality and sizing issues.
GET THE SCOOP ON HER SUNGLASSES HERE
Knockoffs:
Zauful Colorful Bikini Set Available Here
Shop the "ADA" Pink Monokini Here
Have you seen fashion on the Real Housewives or any other Reality TV style you can't live without? Post a comment below, tweet @BigBlondeHair or leave a comment on  The Big Blonde Hair's Facebook page