Lauren Loves: Foil Pressed Birth Announcements by Minted
After I got back Valentino's gorgeous newborn photos from Shannon Gallo photography I knew I wanted the birth annoucements to be just as amazing. I turned to Minted.com, who works with independent artists to bring it's customers unique design options for the perfect choice. Friends had expressed their positive experiences with the site, and the folks at Minted certainly didn't disappoint.
I knew I wanted a glam, foil-pressed design (side note, all foil pressed cards are 20% off with code FOIL20 through 11/14 and they make perfect holiday cards) and Minted had great options that I didn't find anywhere else. After I picked the perfect design I uploaded my photos, picked the foil color and other design options and typed out my text, I submitted the draft and quickly recieved a proof to approve. They offer free envelope addressing in multiple designs and fonts, so I took advantage of that by uploading a spreadsheet of my address book, that is now there for when I go back to pick from one of 800+ foil-pressed holiday card designs.
After everything was squared away and my order was sumbitted I received the announcements more quickly than promised and they are gorgeous! I still have some to send out, but so far I have had so many people reach out and let me know how stunning they are, even saying they thought they were receiving a wedding invitation. I couldn't be happier with the quality and look of the product I recieved.
Here's a look at the final results of Valentino's birth annoucements, and some of my favorite holiday card choices on sale from the site!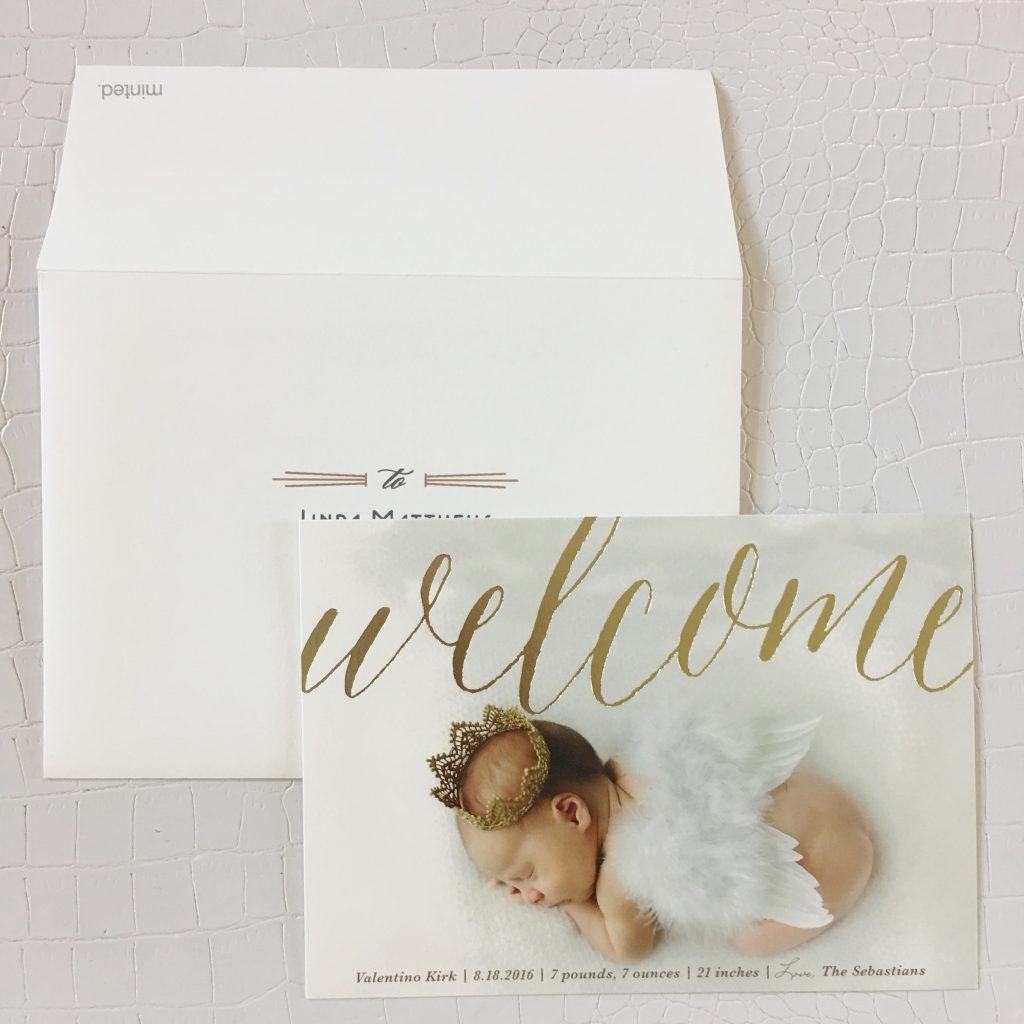 Foil Pressed Birth Announcements by Minted Available Here
Below are just a few of my favorite holiday cards that are 20% off with code FOIL20 through 11/14:

After about 6 years of covering celebrity fashion, I've only shown you a small fraction of my rather large closet and fashion knowledge. That being said, in 2015 I decided to dive in to a new "Lauren Loves" feature on BigBlondeHair.com.  It focuses on my outfits, reviews, Chicago favorites and events.  Reviews are unpaid (unless notated Sponsored) and are my own opionion. Please feel free to comment with questions about sizing, retailers, styling or anything else. Xo & Happy Reading