Leah McSweeny's White Dress at Bravocon
Leah McSweeny's White Dress at Bravocon
Bravocon Fashion 2019
On the Bravocon Watch What Happens Live special I got my first non-social media glimpse of new Real Housewives of New York cast newest member Leah McSweeney, and I have to say I wasn't disappointed, especially when it came to her new cast member's reaction to her. She definitely portrayed confidence and a "hold-her-own" attitude, and hearing her speak may have just dried a my Bethenny Frankel departure tears jussssst a little.
Also, I she is totally stunning, and I'm not just talking about her "dress". Luckily I already had an idea of the designer of the piece she was wearing because doing a search for the term "white dress" would have essentially been like getting an apology out of Ramona finding a needle in a haystack.
I have a feeling there's more great style to come from this clothing designer who is behind the brand Married to the Mob. As one of the first women to join a Real Housewives cast after owning a clothing line for years, I have a feeling we're in a for a walk-in closet sized treat with this beautiful blonde.
The Realest Housewife,
Big Blonde Hair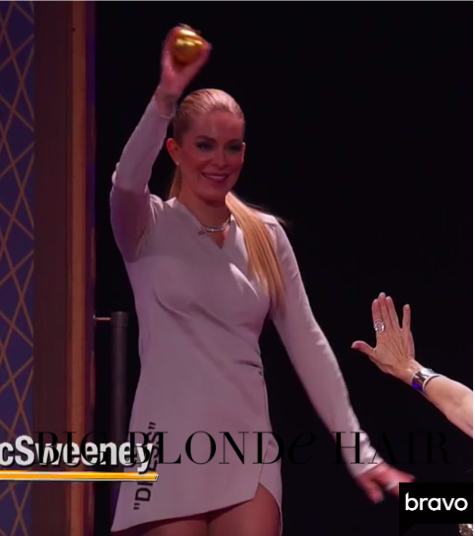 Click Here to Shop her Off-White Dress
Shop Other Colors Below
shop style stealers

Shop Other
Celebrity Fashion