Just when I thought the Rockstud was on it's way out, I saw these gorgeous neon Rockstuds for Spring at Nordstrom last week, and they are totally the shoes of Resort/Spring 2014. My problem? I just couldn't decide which color I wanted. And then I saw Lisa Hochstein's Instagram, and the girl got all three. And a pair of Louboutin's with a side of Hermes.  And really, if I try to compete with that, it's my husband that now has the problem.
Lisa Hochstein's Neon Studded Shoes on Instagram
Valentino Rockstud Pump in Pink Fluo Available Here
Valentino Rockstud T Strap in Blue Available Here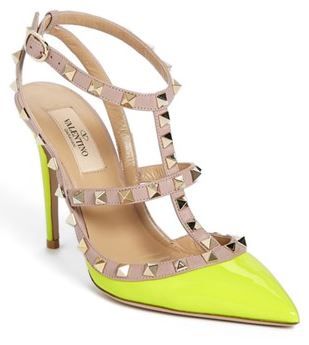 Valentino Rockstud T Strap in Yellow Available Here
Christian Louboutin Black Cataclou Studded Wedge Available in Nude Here
Style Stealers:
Dollhouse Gravity Pump Available Here in Black or Red
Kate Spade Pink Avenue Tote Available Here
Have you seen clothing on a The Real Housewives or a Reality TV Star that you can't live without? Post a comment below, tweet@BigBlondeHair or leave a comment on The Big Blonde Hair Blog's Facebook page.