Lisa Vanderpump's Green Necklace at Portia's Party
I've always known people in Beverly Hills must love the color green because of all of the green in their wallets, but Lisa Vanderpump's look at Portia's birthday party tops them all. And really,  if Lisa has this much green in her closet, I can only imagine how much she has in her bank account.
Lisa Vanderpumps' Green Multi Stone Necklace at Portia's Party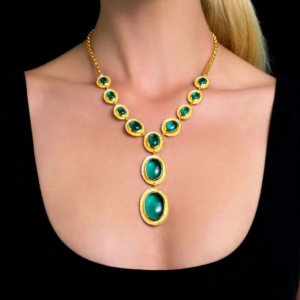 Melinda Maria Lisa Y Pod Necklace Green $385 HauteHeadquarters.com
Use Code blonde10 for 10% Off!
Have you seen something on the Real Housewives or any other Reality TV fashion you can't live without? Post a comment below, tweet @BigBlondeHair or leave a comment on  The Big Blonde Hair Blog's Facebook page.