Melissa Gorga's White & Tan Fringe Bikini & Cover Up
Just when I thought I knew when I thought my night of Real Housewives of New Jersey fashion finds was going to be a cake walk, Melissa Gorga went a threw me for a loop with her fringe bikini, a find that I thought I had in the bag.  I mean, a fringe bikini that isn't by L Space is something that is as rare as a Real Housewives dinner party without a throw down. And just when I thought it wasn't possible, Melissa went and proved me wrong with her white and tan fringe bikini at the shore. Does this mean there is hope for the next dinner party? I guess I'd still skip using the good china, just in case.
Melissa Gorga's White Bikini with Tan Fringe & Studded Gold / Tan Cover Up at Her Shore House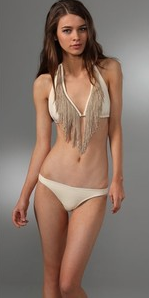 Riley Fringe Bikini by Inca Sold Out – Shopbop.com
Beach Bunny "Need You Now" Ballet Tunic Available in Charcoal $105 eBay.com
Thank you to Jessica for the ID on the tunic!
Style Stealers:
Lula Fami Rabiosa Studded Fringe Bikini
Have you seen something on a Housewife or celeb you can't live without? Post a comment below, tweet@BigBlondeHair or leave a comment on The Big Blonde Hair Blog's Facebook page.