Southern Charm Season 7 Fashion: Most Requested Looks
Southern Charm Season 7 Fashion
Okay so after a lot of requests, questions, and "How could you not be covering Southern Charm this season?" messages, I am here with a Southern Charm Season 7 fashion roundup based on the requests that were emailed, DM'd, etc to me. And to answer that question, there are only so many hours in the day 'round here, we had tons of Housewives content and some things coming out of that camp's cast members weren't exactly making me feel warm and fuzzy as the season began.
But since I am here to give the BBH audience what they want (free Chanel bags not included) here's a roundup of the requested pieces I was able to find. If I'm missing yours, I either couldn't fit it or it got lost in the shuffle, so please comment below.
So thank you Blondetourage for your feedback and turning me on the the fact that Madison LeCroy's Season 7 wardrobe did, indeed, needed to be in my life and that this season was worth a watch.
The Realest Housewife,
Big Blonde Hair
Madison LeCroy's Striped Cutout Bathing Suit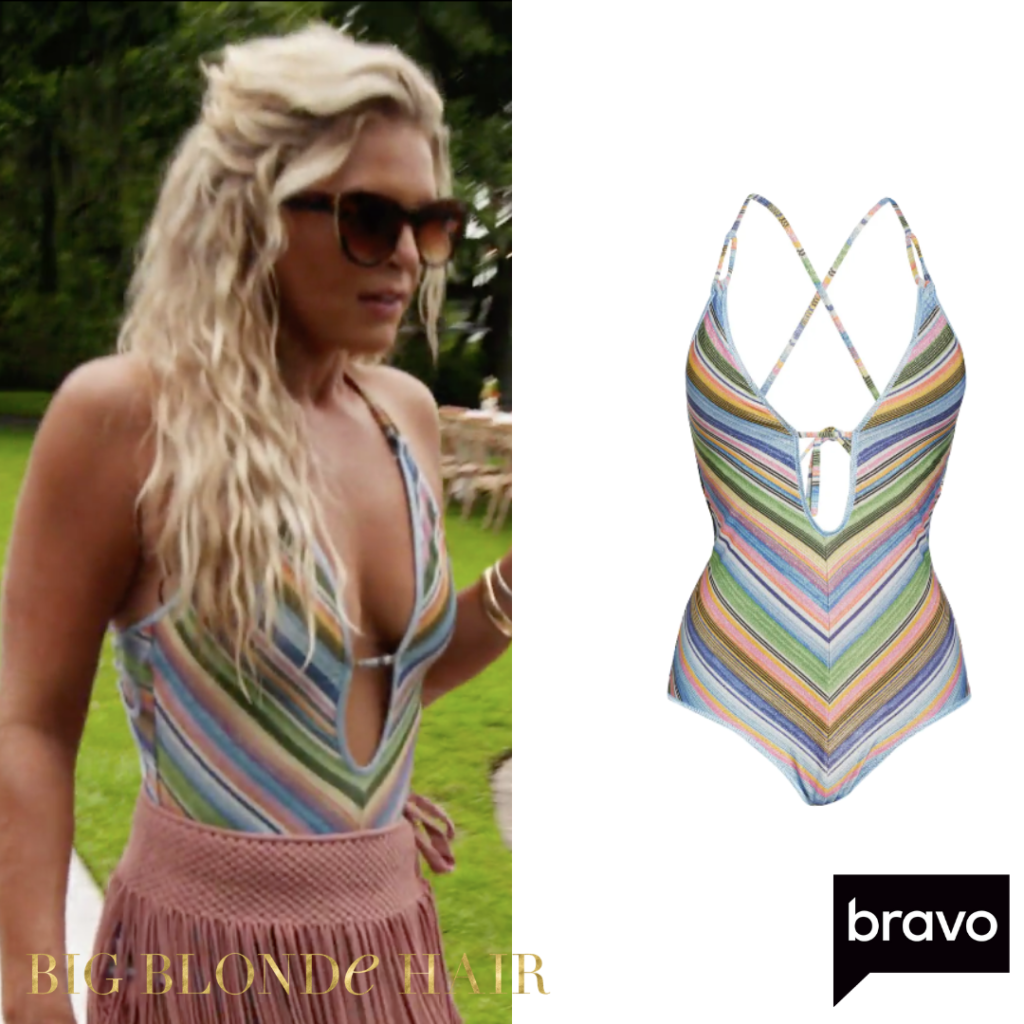 Click Here to See Her Becca By Virtue Swimsuit
Style Stealers:

Madison LeCroy's Pink Fringe Cover Up Skirt
Exclusive PQ Fringe Cover Up Skirt Sold Out at Everything But Water
Style Stealers:

Venita Aspen's Floral Ruffle Maxi Dress
Click Here to See her Carolina K Penelope Dress
Style Stealers:

Kathryn Dennis Purple Eyeshadow
Click Here to Shop her Huda Beauty Eyeshadow
Click Here for Additional Stock
Madison LeCroy's Beach Party Outfit Bralette
Click here to See her BHLDN Delightful Bralette
Style Stealers:

Madison LeCroy's Beach Party Outfit Robe
Click here to See her Sold Out Anabella Robe
Hers is worn without the belt, clasped with the hook and eye clasp, with a pair of slit pants underneath
Style Stealers:

Leva Bonaparte's Floral Cutout Maxi Dress
Click here for her Vici Zabelle Maxi Dress
*Disclaimer: A lot of places carried this Zimmermann look for less, linked to where there was stock*
Style Stealers

Kathryn Dennis' Green Sunglasses  at the Beach Party
Click Here to Shop her Gucci Sunglasses
Style Stealers:

Madison Simon's Sunglasses at the Beach
Click Here to See her Gucci Sunglasses
Style Stealers:

Leva Bonaparte's Sunglasses at the Beach
Click Here to Shop her Gucci Sunglasses
Style Stealers:

Venita Aspen's Teal Pleated Cutout Dress
Click Here to Shop her AMUR Pleated Dress
Style Stealers:

Madison LeCroy's Purple Sequin Confessional Dress
Dress by The Attico Sold Out

Shop Other
Celebrity Fashion