Where is Stassi's bronze necklace from? It's like Kathy Wakile's and the one Kyle wears in the opening credits. I have that one, must have this one!!!! Audrey via Big Blonde Hair on Facebook
Audrey, you'll be happy to know that Stassi's necklace is actually a less expensive, Style Stealer for the necklace you already have. Now that's savvy shopping.
Stassi Schroeder's Amber Crystal Necklace Talking to Jax in The Finale
(Worn stacked in this image)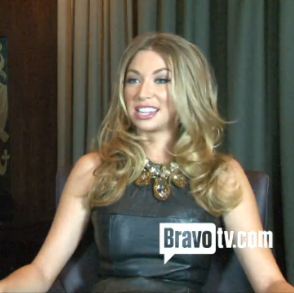 Crystal Pendant Necklace Available at Arden B
Have you seen your favorite Real Housewives or other Reality TV Stars wearing something you can't live without? Post a comment below, or on The Big Blonde Hair Facebook page!