Stassi Schroeder's Gold Antique Baroque Mirror
Stassi Schroeder's Gold Antique Baroque Mirror in Her Apartment
Vanderpump Rules Season 6 Decor
Stassi Schroder's gold antique baroque mirror most recently seen in Season 6 has been in her apartment from LA to NYC and back to LA again. Stassi first introduced us all to the European influenced mirror on her Instagram post nearly 4 years ago where the debate ensued, should she hang it over mantel or above TV. Luckily, her loyal fans steered her the right way and the baroque mirror ended up above the mantel.  The thing that we love most about this mirror is that it once belonged to her Grandmother. Love some family heirlooms! Her Grandma obviously had some serious style and, of course, we suspect thats where Stassi gets hers from!
Until next time,
Chelsie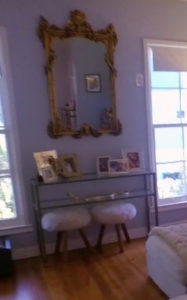 Stassi's Gold Mirror is an Antique Piece from Her Grandmother
Click Here to See Stassi's Antique Baroque Mirror on Instagram
Style Stealers:

Shop Other Decor Recently Seen On + Inspired By Bravo TV:

Have you seen fashion on the Real Housewives or any other Reality TV style you can't live without? Post a comment below, Follow @BigBlondeHair on Instagram , tweet @BigBlondeHair or leave a comment on  Big Blonde Hair's Facebook.