Where did Stassi get that pink dress she wore in her interviews on the December 16th show? PinkDressFab
I don't like to make assumptions, but I'm guessing "PinkDressFab" is not the actual legal name of the person who posted the comment above, which I am thankful for. Why am I so thankful? Well, I am pretty sure Stassi Schroeder should legally change her name to it based on the amount of requests I got to find this baby, so luckily, it's still on the market.
Stassi Schroeder's Pink Interview Dress on Vanderpump Rules Season 2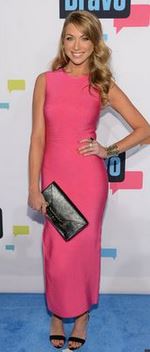 Meli Dress by CelebBoutique First Identified HERE
Style Stealers:
Monrow 1×1 Long Dress Available Here
Pink Pencil Peplum Dress Available Here
ASOS Neon Pink Halter Maxi Dress Available Here
Have you seen something on a Housewife or celeb you can't live without? Post a comment below, tweet@BigBlondeHair or leave a comment on The Big Blonde Hair Blog's Facebook page.