Tamra Barney's "Secrets Revealed" Red Lace Dress
Hi, I was wondering if you knew/could find out what designer the red scalloped lace dress (with the nude panel in front) is by which Tamra Barney (now Judge) wore to the engagement tea party that Heather threw? It was on the "Secrets Revealed" episode of RHOC . No worries if not, figured I would ask!  Thanks 🙂 Tenley
Embarrassingly, I skipped the "Secrets Revealed" Episode of The Real Housewives of Orange County and my DVR decided to skip it too, so I had no clue what Tenley was referring too. But thankfully she was kind enough to send some show shots, and then I knew exactly what she was talking about, because this is a fab dress that I saw once and just couldn't seem to forget.
This all leads me to believe that I have so many dresses in my head, they took up all the space to remember to watch the show.
Tamra Barney's "Secrets Revealed" Red Lace Dress at Her Engagement Party
BCBG Rochelle Dress Available Here
Style Stealer: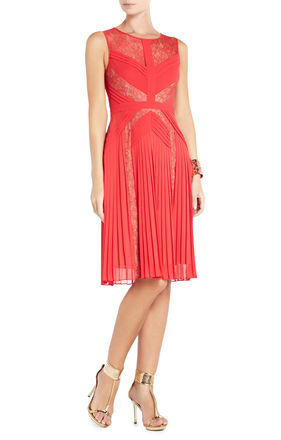 BCBG Raya Pleated Cocktail Dress AVAILABLE HERE
BCBG Layton Dress AVAILABLE HERE
Have you seen clothing or jewelry on a The Real Housewives or a Reality TV Star that you can't live without? Post a comment below, tweet@BigBlondeHair or leave a comment on The Big Blonde Hair Blog's Facebook page.