What do the Sex and the City cast, Rhianna, Fergie, Kate Beckinsale , Diane Kruger  and Heidi Klum have in common, aside from the fact that you are insanely jealous of their statement making style? They've all been dressed by Celebrity Stylist and Creative Director of Styleworks Group, Ingrid Levy. And now is your chance to get advice with the stylist to the stars herself, as she took the time to join BigBlondeHair.com for The Style 6 to educate us on her must have pieces, how to get her fabulous tan and the keys to maintaining an impeccable look. Enjoy … And take note. Originally published 1/2012
Check out Ingrid's blog Ingrid and The City and follow her on Twitter @IngridAndNYC to keep up with her fabulous looks, and life.
"I wake up to Net-A-Porter alerts the way stockbrokers wake up to CNBC"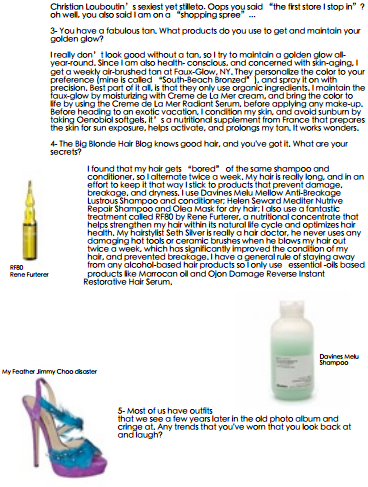 "Oh Man! You have no idea how much I regret wearing those jeans with the swarovsky-crystal bedazzled pockets a few years ago."
Have you seen something on a Housewife or celeb you can't live without? Post a comment below, tweet@BigBlondeHair or leave a comment on The Big Blonde Hair Blog's Facebook page.