Alexia Echevarria's Pastel Chandelier Interview Earrings
I'm confident, if put to the test, I could tell what region a Real Housewives cast member is from just by looking at a piece from their jewelry collection. Bright colored statement earrings or necklace? You're in the Orange County sun. Cross or multi-strand necklaces? You're Jersey wife.  And now, thanks to Alexia Echevarria, major chandelier earrings in pretty pastels just found a home on my list as well.
Alexia Echevarra's Pastel Chandelier Interview Earrings
Suzanna Dai Tropicalia Large Drop Earrings
Style Stealer: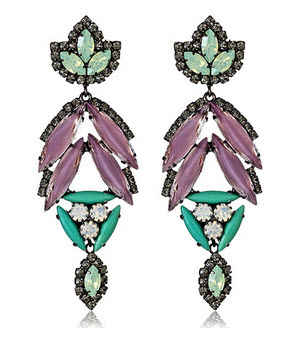 Elizabeth Cole Rogue Earrings Available at HauteHeadquarters.com
Have you seen something on the Real Housewives or any other Reality TV fashion you can't live without? Post a comment below, tweet @BigBlondeHair or leave a comment on  The Big Blonde Hair Blog's Facebook page.