Hi, any idea about Alexia's sexy red & white stripped dress at R.J.'s bday party? She's my favorite when it comes to style. She's bangin! Tatiana via Big Blonde Hair on Facebook
I totally agree with Tatiana; Alexia's style has been on point this season and I'm loving her clothing choices. And all I can say is, I totally hope someone calls me bangin' at one of my sons friends birthday parties when he gets older. And if this was Instagram, that statement would get a #SorryNotSorry tag.
Alexia Echevarria's Red & White Striped Dress at Lea's Son's Birthday Party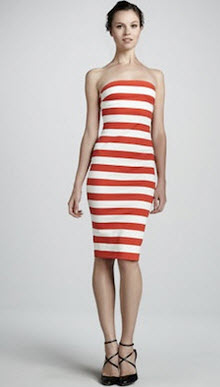 Robert Rodriguez Graphic Stripe Dress SOLD OUT in Red
Available HERE in Black & White Size 6
Robert Rodriguez Graphic Stripe Dress Available Here">
Style Stealer:
Bebe Red & White Striped Midi Dress Available Here
Also Available Here in Black & White
Have you seen clothing or jewelry on a The Real Housewives or a Reality TV Star that you can't live without? Post a comment below, tweet@BigBlondeHair or leave a comment on The Big Blonde Hair Blog's Facebook page.