Alexis Bellino had a bit of a rough time on Part 1 of The Real Housewives of Orange County girls trip to Costa Rica, and I can say most of us would never, ever want to be her in position- Especially on vacation. But do you know what most of us do want? Her crystal cross, zip-lining hat.
Alexis Bellino's Crystal Cross Costa Rica Hat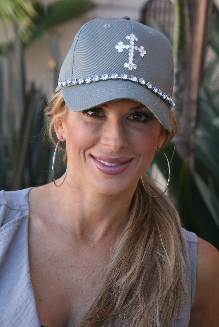 The Alexis "Truth" Hat  (Multiple Colors) $55
Have you seen something on a Housewife or celeb you can't live without? Post a comment below, tweet @BigBlondeHair or leave a comment on The Big Blonde Hair Blog's Facebook page.