Brandi Glanville's Red Lace Dress
It was somewhat surprising to see Kyle Richards join the Chamber of Commerce on the Season 4 Premiere of The Real Housewives of Beverly Hills, but definitely made sense, as she owns a business in Beverly Hills. I mean, it's not my personal cup of tea, but good for Kyle for getting out there. However, if Brandi Glanville ever joins with her, you can sign me up, because those meetings are about to get a lot more interesting.
Brandi Glanville's Red Lace Dress at Kyle Richards Chamber of Commerce Party
8378 Melrose Avenue, Los Angeles
Clutch by Alexander McQueen Available in Red & Gold Here
Style Stealers: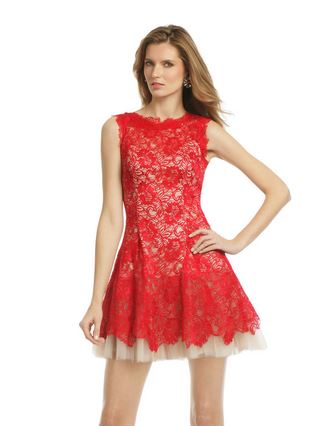 NHA KHANH Timeless Love Dress Click below to RENT IT:
BCBG Leyton Leather Dress Available Here
Have you seen something on a Housewife or celeb you can't live without? Post a comment below, tweet@BigBlondeHair or leave a comment on The Big Blonde Hair Blog's Facebook page.