Yolanda Foster is far from your typical Beverly Hills Housewife. Beginning with her humble upbringing in Papendrecht, Holland, washing dishes at a Chinese restaurant at the age of 13 to help support her family only only to be discovered as a model by Eileen Ford herself, she hasn't lead the life one may assume at first glance. And it makes her interesting; something that it didn't take long for fans of The Real Housewives of Beverly Hills to realize.  The sophisticated former model has viewers wanting everything from her rosary necklaces to her kitchen appliances, and after reading this interview, you'll also want to be her friend. Especially when you find out you may run into her shopping at Forever 21.
************
BigBlondeHair.com: As a former model and wife to David Foster, you are used to life in the public eye; however you are a far cry from the "typical" Reality TV personality. What made you decide that going on The Real Housewives of Beverly Hills was a good fit for you?
Yolanda Foster: To be honest with you, I did not know if it would be a good fit but I did know that it is a hugely successful show that reaches nearly 2 million viewers every week. So it's a great platform for business opportunities and that's what made it attractive for me. Even though I did not see much of the show, I knew I could add a different flavor to the group.
BBH:  So far this season we have seen that you are very level-headed and do not feed into petty issues with the other women; yet fans who normally tune in to see that drama still want more of you. How are you able to gracefully bow out of conflict and keep your composure?
YF: I think my level-headedness stems back from my Dutch upbringing. Our culture is quite drama free and emotionally controlled so I am programmed to step back, assess the situation and then react.
I believe I am probably boring to some fans but others can probably identify with me because my communication skills are closer to their own. Remember, most of the drama is about the past, which I wasn't a part of, so I have just been sharing my observations.
BBH: Now that filming has ended, do you stay in touch with any of the other women?
YF: I have been home battling Lyme disease for the past 5 months and Lisa and Brandi are the only two women that have come to visit me.
BBH: BigBlondeHair.com loves the latest in Real Housewives gossip, but we are more concerned about the fashion! If you wear it, even if it's the most basic t-shirt, your fans want it. So please, tell us, who are your favorite designers and where are your favorite places to shop?
YF: My favorite places to shop are in Europe; I just love to find great pieces in the smaller boutiques. The pantsuit I wore to the Grammy's last week, I found in Capri, Italy last summer.
BBH: Where do you shop for basics like your cashmere turtleneck sweaters or t-shirts we have seen you in this season?
YF: I get most of my cashmere sweaters from J. Crew.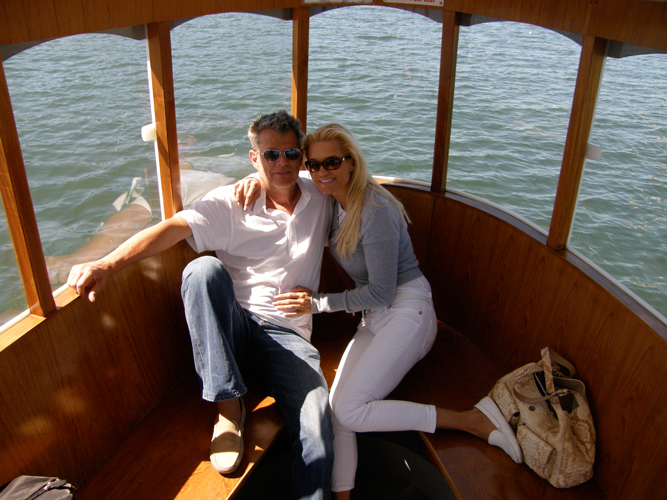 BBH: We've noticed your style ranges from pieces that are moderately priced like Guess Jeans and Lululemon to pieces that are high end by Hermes, Michael Kors or Roberto Cavalli. What is your advice to a girl shopping on a budget? What should she save on and what should she splurge on?
YF: I honestly am always shocked to see how expensive clothes are. That's why I have a lot of non-designer clothes. I am not very brand-oriented, but I do spend money on a great bag, belt and pair of shoes. These accessories are what make an outfit.  When I do splurge on designer items, I always go for the more classic pieces that stay relevant forever. I can find a great pair of jeans and t-shirt at Guess or Forever 21 and then dress it up with the more expensive stuff and look a million bucks.
BBH: I would venture to say you probably learned a bit about fashion modeling around the world. Who or what do you think influenced your style most?
YF: I have always had a very sporty sense of style. For 15 years I  lived out of a suitcase traveling around the world on modeling assignments; Schlepping your own luggage everywhere wasn't a lot of fun so I learned to travel light very quick. It also taught me to be creative and work with the simple basics pieces that I was able to carry around.
At 21, I bought my first Chanel bag, which I still have in my closet today.
BBH: What are your favorite make up products?
YF: I don't wear much of it, but when I do, I love Koh Gen Do Aqua Foundation as a base, Grey Utility Eyeliner from Mac, Trish McEvoy Mascara and Lip Balm, Nars Lip Liner (in) Fantasia and Belle de Jour Lipstick. Or Mac  Myth a81 (lipstick). (And) as a Bronzer, (I use) Terracotta Light.
BBH: Any other beauty secrets you can share with us?
YF: Lemon water and water, water,water!
BBH: Finally, if I don't ask about this I may lose all of my audience; your dainty, gold rosary necklace with black beads has become an obsession with so many of your fans. Can you please tell us more about it and where they can get it?
YF: I have always been drawn to Rosary's and just came out with a couple in my online store, so please check it out on Yolanda.com.
BBH: Thank you so much for taking the time to talk with us, we can't wait to see more of you on this season of The Real Housewives of Beverly Hills.
YF: Thank you so much for your interest in my story. Much love and a big hug.
Can't get enough Yolanda? Yolanda.com is your one-stop shop for all Yolanda news, reviews, info and products! 
*****
Also, this Valentine's Day, Yolanda is giving away one of her Rosary necklaces to her favorite Valentine's Day moment. To participate, simply submit your special Valentine's Day moment, upload it to Instagram, and tag the post with #GetWiseVDay . For more on the official contest, visit Yolanda's latest Instagram upload: http://instagram.com/p/VpmBAnos3_/
 A big thank you to Yolanda Foster for taking the time to chat with BigBlondeHair.com.  You are truly a class act.