Fashion Friday Face Off: Outfit of the Week
Fashion Friday Face Off: Outfit of the Week
Big Blonde Hair Weekly Feature
So in similar fashion to our (hopefully) weekly 'Blonde v. Brunette' segment where we check out products or offer opinions on Housewives-related items (see our first post about Cryotherapy here!), we are also going to (*try) do a weekly roundup with our favorite item we each featured during the week. We always love to get feedback about your favorites and maybe you can even make the case for something yourselves! So here we are with our first Fashion Friday Faceoff! Have a great weekend!
The Blonde Says:
How does that Kelly Clarkson song go that brought tears to the world's eyes when she sang it during the first American Idol finale oh so long ago? Something about "Some people wait a lifetime, for a mowwwww-mentttt like
this?" Well that little jingle totally about sums up how I felt when I saw Cameran Eubanks' had finally adopted my depressing, cold-weather—and might I add, sometimes slightly sexy and sophisticated—Northern girl ways and donned an allllll black jumpsuit on this week's episode of Southern Charm.
In truth, I thought you'd actually catch me in a Pulitzer print before I saw Cameran don all black, due to the Bravo brain-washing that has lead me to purchases including, but not limited to, Sky brand tops, various items with Bebe and BCBG on the tag, a Camilla caftan and more rockstuds than you can shake a stick at. But our favorite little firecracker surprised me once again and did so rather pleasantly. Despite the fact it needed to be hemmed a tad bit ( it actually needed to be on the Nordstrom model too so perhaps I'm missing something or just jealous because everything is short on my 5'9 frame), Cam totally rocked it.
And while ya'll scooped up every last one of them after my initial post, I've listed some additional Style Stealers for those of you who are inclined to come to the dark side, just like Cameran (it's not so bad over here).
Bye,
Lauren
(yeah, I know I need to think of a cute signature like Sally)
Cameran Eubanks' Black Cutout Back Jumpsuit at Dinner with Her Gold Earrings 
Season 4 Episode 6 Southern Charm Fashion
Click For Info on the A.L.C Reed Cut Out Back Jumpsuit SOLD OUT
The Brunette Says:
So as much as I love this new gig of mine there has definitely been some collateral damage. I remember when I was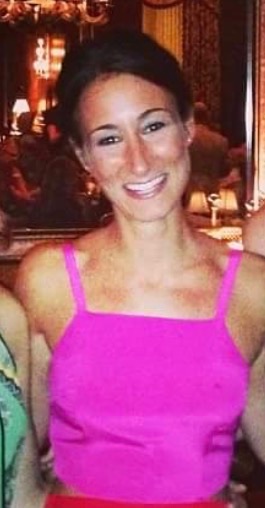 in high school I worked at Abercrombie and Fitch for about ten minutes and I spent more than I made (partly because we had to buy and wear the clothes they sold at the time, but partly because I loved everything). I am quickly starting to see this is the same slippery slope. That being said, with the exception of an addiction to overpriced bags and shoes, my clothes are generally recognizable labels but always bought on sale. So I have a feeling that although I post about fabulous Saint Laurent dresses and Balmain jackets during the week, my favorites will tend to be something I actually see myself wearing.
This week I'm picking something a little out of my comfort zone. I'm not a maxi dress girl and I usually dress like I'm going to a funeral, but our new Southern Charm Savannah friend Catherine Cooper not only shares an alliterated name, but this week she grabs my favorite item for the week. The Mara Hoffman rainbow and striped maxi halter dress she wore is something I would reluctantly buy and then wear the hell out of. I was REALLY sad to see that it was sold out but definitely chose an alternative but similar look as I was picking some out for y'all. See? I'm even picking up some of Catherine's Southern twang.
Keep it Real,
Sally xo
Southern Charm Savannah's Catherine Cooper's Maxi Dress
Southern Charm Savannah Season 1 Episode 1 Fashion
Click Here to Check Out the Mara Hoffman Wrap Top Maxi Dress (S/0)
---
---