Friday Fashion Face Off: Outfit of the Week
Friday Fashion Face Off: Outfit of the Week
Okay so this is the fourth installment of Friday Fashion Face Off: Outfit of the Week, which I'm pretty sure means it's legit based on the fact that most of my pre-Sally Steele attempts at weekly segments lasted a total of maybe like, one week. So cheers to another great week of Reality TV fashion, and to Sally for getting my ass in gear and bring some fun back to Big Blonde Hair!
Lauren Says:
Okay so either Cameran Eubanks' Southern Charm style is growing on me or she's found her way into the depths of my extremely messy closet full of dark-colored clothing and I've totally inspired her, because I'm in to the black,
crochet-lace, bell-sleeve top from her therapists appointment. Although it aired two episodes ago I just found the details this week and I had to revisit as it isn't one to be missed, since we only saw the top part of it during the actual episode. And although I'm fairly confident that Cam will be having a "bump only" pregnancy, we've got to shop her looks while the gettin' is good in case she doesn't follow through on her quest to only wear non-maternity clothes while she's got that lil' bun in the oven.
To me this hollowed out lace top is definitely very reminiscent of something Kyle Richards' would wear as it's a bit boho, but this Southern Charmer made it sophisticated-chic when she used it to create an all black ensemble when she re-wore it on Insta. Even though it's sold out, variations of this top have popped up everywhere which means we can steal her style on the cheap (always remembering the cardinal rule of "Size Up" and expectation management if something is shipping directly from China).
So while most of you have grown to love Cameran for her printed wrap dresses and fun earrings, I'm totally loving her dark side—and no I'm not referring her her "White Witch" voodoo dolls.
Style Stealers:
Crochet Bell Sleeve Top Available Here

 Sally Says:
So I'm really, really into this pool slides thing. As someone who has always struggled with sandals, this is the ideal fad. I walk miles and miles a day in the summer all over Chi town and usually end up with blisters and bruises. So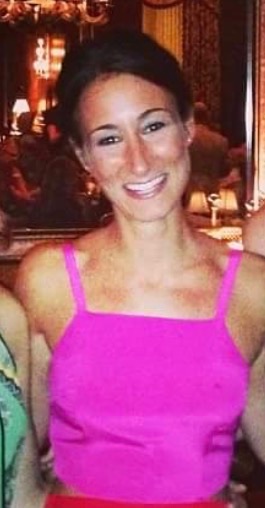 when Valentino, Gucci, Saint Laurent, Prada, Fendi and Givenchy all jumped on the pool slides train, I jumped on it and went 250 mph. My favorites were the Valentino Rockstud pair, which are light as a feather and mold to your feet, but have the signature stud and come in a really cute light pink to soften up the edge. Then there are the Saint Laurent ones, which come in tan and black and have a really understated but awesome logo right on the top. They also mold to your feet and are made of leather so the comfort and style combo is perfection.
But then, then I saw Khloe Kardashian's fur slides, and I saw them again, and again in all different colors and I fell in love. Despite the fact that she's been wearing them everywhere from Mexico to Palm Springs and anywhere with a hot climate, I actually think they're ideal for Chicago and similar weather because the sandals can be worn day to night where there may be the typical 20 degree drop in temps. They come in literally all colors of the rainbow: Striped, yellow, black, red, pink, coral, brown, and I'm sure others will come along once people pick up on how AWESOME these are! Of course, for those of you down-to-earthers, there are plenty of amazing ones out there that don't have to say Givenchy, or Dolce and Gabbana which makes similar ones. Buuuuut for those of you who are ready for a relatively simple splurge (and some are even on sale!), this will def not disappoint!
Keep it Real,
Sally xo
Click Here to Shop Givenchy Fur Slides in Various Colors (Some Color/Size Combos on Sale!)
Click Here to Shop Valentino Rockstud Pool Slides
Click Here to Shop Saint Laurent Slides
 Style Stealers:

Shop Other Kardashian Inspired Fashion:

Have you seen fashion on the Real Housewives or any other Reality TV style you can't live without? Post a comment below, follow @RealityStarStyle on Instagram, tweet @BigBlondeHair or leave a comment on  Big Blonde Hair's Facebook page