Interview: Vanderpump Rules star Katie Maloney dishes on drama & beauty
(Originally published by Lauren Sebastian founder of BigBlondeHair.com here on Examiner.com)
Katie Maloney is no stranger to drama, and her relationship with long-time boyfriend Tom Schwartz has taken center-stage on this season of Bravo's hit show, Vanderpump Rules. And while you've gotten a glimpse at Katie's life inside the walls of the ever-sexy SUR, she has a lot more going on then just serving up cocktails and controversy. Check out what she had to say to BigBlondeHair.com about what's actually going on in her relationship with Tom, her best beauty tips from her popular blog PuckerandPout.com, and what to expect from the rest of the season of Vanderpump Rules.
BigBlondeHair.com: Your website Pucker and Pout dishes on your favorite fashion and beauty secrets. What inspired you to start blogging?
Katie Maloney: I have all of these followers on social media (from Vanderpump Rules) and I figured I might as well use that in a way that is productive and can eventually lead to other things, as opposed to for just selfies and food porn. My friend (Jennifer Biswas) who I started my site with said "You should start a blog, you have all of these really great beauty tips and secrets." So we launched it last February and it's fun! I love to share my little tips with my friends and I have dabbled in using tutorials and all that as well, so it's kind of my version of (all of) that.
BBH: What are your must have beauty products right now?
KM: I've been focusing on a lot of holiday stuff, like holiday beauty must-haves. One of the things I'm definitely going to bring out is long-wear matte lipstick that's more like a lip gloss that dries matte. There's one from Lime Crime and Stila makes them as well. So you can go to parties and eat and drink, not worry about touching up your lips all night long and still look fabulous.
Right now I'm really into strong brows, playing up lashes and then putting a bold lip on as well as lip conditioning—a good intensive treatment to keep your lips nice and soft. Also jewel toned eye shadow.
Read Katies Pucker & Pout feature on jewel toned eye shadow here
BBH: Fans may not know that you've worked with a variety of celebs styling on-set (including Jamie Pressley and Katherine McPhee). Do you have an on-set beauty tip that a regular girl can take home and use on her own?
KM: If you are wearing shoes for a long time or borrowing shoes that don't fit put a maxi pad in the sole. You can wear them all night and they keep your foot from slipping out of it. Or if you get deodorant stains on a black dress grab a pair of nylons and rub it over (the stain) and that will get it out.
BBH: I did not know that! That's amazing! Since you also cover fashion on Pucker & Pout, do you have any tips on dressing for New Year's Eve?
KM: I think a nice pencil-fit black dress with a pair of red pumps and a statement clutch is really cool. But keep the accessories to a minimum.
New Years is always a perfect time to pull lamé out—like a gold lamé swingy dress. Some girls want to pull out that sequin mini-dress and look like a little disco ball, but I say be very selective with your sequins. Find a great little sequin jacket or a little cape. Keep to that sparkly trend without being too Las Vegas show girl.
Read Katie's Pucker & Pout featured on "Holiday Dresses that Won't Break the Bank" here
BBH: Okay, switching over from dramatic dresses to the drama on Vanderpump Rules…Right now there's a lot of focus on your love life. What is the latest with you and Tom Schwartz?
KM: The drama is that he did cheat on me. But he was honest—when I asked him about the rumors he came clean— so I have to give him that. Obviously it was something that I was in the dark about but it's not like he went out, had a torrid love affair and was emotionally invested or anything—that's a big deal breaker.
I had to sort of separate the emotions from it, obviously I was heartbroken but I had to look at things factually. Kind of where and why it all happened. We have been together for so long, and it was a drunken mistake. I don't think it was something he would do in a strong state of mind.
Unfortunately cheating is just destructive and unhealthy, but you have to trust your gut and intuition when you are faced with something like that. You can't really say "Well if my boyfriend ever cheated I would just kick him to the curb". I kind of felt that I would (do that), but given the circumstances, and the fact that he made the mistake and felt like an (expletive), (I think it) put things back into perspective of how important our relationship is to him.
We've really been putting in the leg work rebuilding our trust and I think we've learned how important trust and communication is, and just honestly.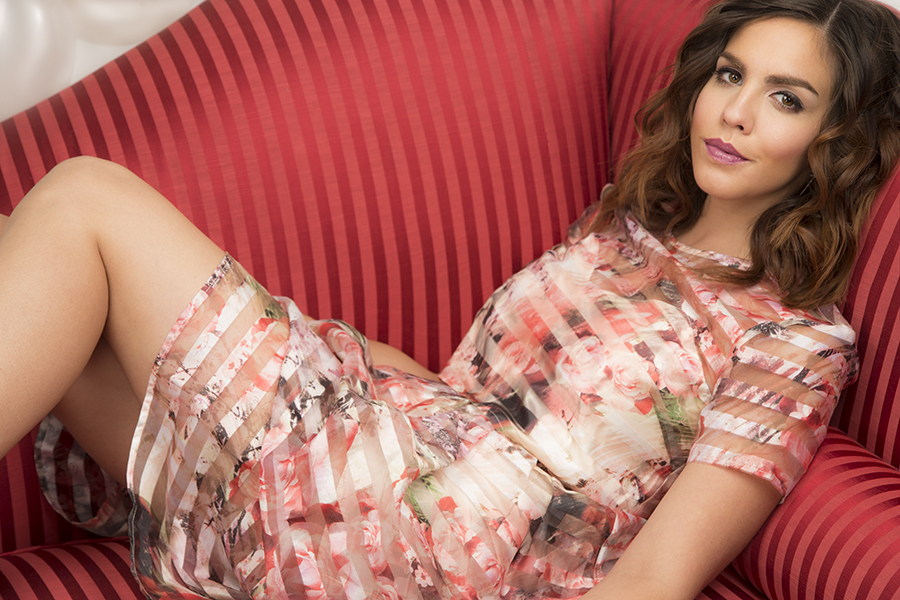 BBH: Do you think going through this on camera and with other people's opinions on social media has made it harder for you guys to get back to a good place?
KM: I was prepared for all kinds of backlash and (the) response that was going to happen with people saying "Oh my god, what an (expletive), break up with him!" or some people saying that I deserved it. The thing is I've gotten such a thick skin over the past few years and the bottom line is the only opinions that really matter to me are mine and his, and then people who know us like close friends a family. So it doesn't really matter to me what anyone says, we know our relationship and we know one another and how we feel. What we say to each other is more important than what someone in Oklahoma or Illinois is going to say just watching on a TV show.
BBH: I agree, I feel bad for you guys because people are rough on social media.
KM: Yeah, but I think once people see more of the story unfold they'll start to really root for us and see what we have as a couple.
BBH: Are there any secrets about the rest of the season of Vanderpump Rules that you can spill?
KM: Some of the big twists really haven't unfolded yet, I don't want to spoil it. You will see some fall-outs between people and unexpected reconciliations. And you might see a little more—actually a lot more—drama. There's a surprise incident that's going to make people just stare at the TV!
BBH: Any other new projects —on top of everything else you have going on—that your fans need to know about?
Right now it's still really about working on content on Pucker & Pout. We really take a lot of time and put a lot of thought into what we put up there. We definitely have plans of branding Pucker & Poutmore. I'd love to get a beauty line out, whether it's hair products or a lip gloss line. We haven't exactly decided what direction to go, but we are working towards it.
I've also played around with doing something fun in terms of fashion and apparel— maybe shoes, intimate wear or lounge wear. I'm really into joggers, like nice comfy sweats that don't look like sweats that can actually almost put on with a pair of heels.
So I'm just putting a lot of focus on Pucker and Pout and getting that to where I want it to be!
****************************************************************************************
A big thank you to Katie for taking the time to chat with BigBlondeHair.com. You can catch her Vanderpump Rules on Bravo every Monday at 9/8 CST.
Check out more of Katie Maloney's fashion and beauty tips at PuckerandPout.com, and be sure to follow her on social media here: Twitter: @MusicKillsKate / Instagram: @MusicKillsKate