Loving Jennifer Lopez's studded vest on American Idol right now! Any help would be great!! Meghan via Facebook
Megan, it's 11:44pm and I'm up, and I'm tired. I got home from a nice dinner with a friend and I saw your comment about J Lo's jacket on tonight's Idol, and I knew I had to see it.  And once I fired up the good 'ole DVR and saw it I had to find it. And then I found it.  And now I'm going to bed. And I'll probably dream about it. So thank you for giving me sweet dreams.
J Lo's Crystal Trim Contrast Sleeve Tan and Black Blazer
Tory Burch Swarovski Embellished Boucle Jacket Sold Out
Style Stealers:
Chanel Inspired Rhinestone Cardigan $199 ReveBoutique.com
Enter Code BBHB20 for 10% Off and Free Ground Shipping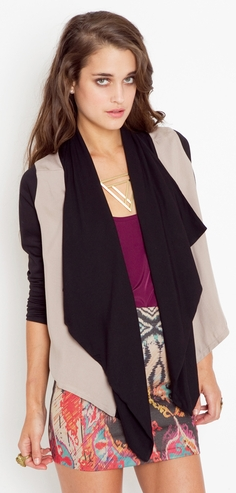 Have you seen something on a Housewife or celeb you can't live without? Post a comment below, tweet @BigBlondeHair or leave a comment on  The Big Blonde Hair Blog's Facebook page.