Kameron Westcott's Pink Ruffle Bikini in Bora Bora
Season 3 Real Housewives of Dallas Instagram Fashion
Kameran Westcott is living both my wildest dream and worst nightmare at the same time in her pink ruffle bikini. Dream? Going to Bora Bora and staying on one of those cool above water huts, which probably won't happen for quite some time due to my current attachment to my kiddos. Nightmare? Someone taking a photo of me in a bikini from the back. I mean, I don't think there is a powerful enough editing app to deal with that sitch right now. But when you've got a booty and bikini like Kam does, you know she's right where she's supposed to be, living the dream—or the nightmare, depending on how often you frequent the gym.
The Realest Housewife,
Big Blonde Hair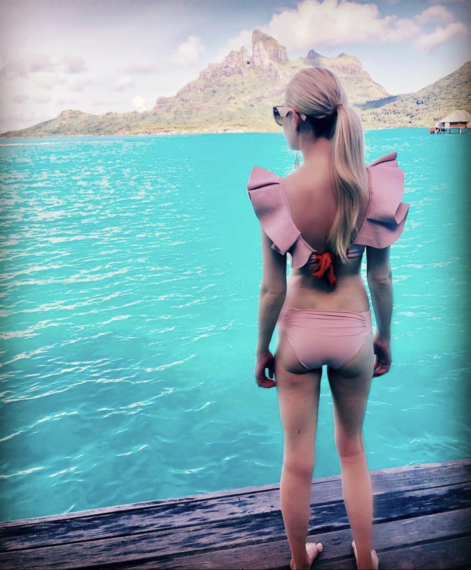 Click Here to Shop her Johanna Ortiz Bikini in Stock in Dark Red
Style Stealers:

Shop Other Fashion and Style Recently Seen On + Inspired By Bravo TV:

Have you seen fashion on the Real Housewives or any other Reality TV style you can't live without? Post a comment below, Follow @BigBlondeHair on Instagram, tweet @BigBlondeHair or leave a comment on  Big Blonde Hair's Facebook.