Kelly Dodd's Blue Button Skirt with Lace
Kelly Dodd's Blue Button Skirt with Lace at Shannon's House
Season 13 Episode 12 Real Housewives of Orange County Fashion
I am obsessed with Kelly Dodd's blue button skirt with lace at Shannon Beador's house! I love a military-inspired look and was super surprised when I found the designer of this piece as it's not their normal look IMO. Kelly's skirt (and legs) also reminded me why I really need to get to the gym again. I feel like you've been hearing me say this since I've had Valentino 2 years ago, but it just seems like there aren't enough hours in the day between running a business and my kiddos to get to the gym. That being said, I did work out last night in my basement and looking through mini-skirts, and at Kelly's legs, seems like a great place to get some inspo to follow it up with a day 2.
The Realest Housewife,
Big Blonde Hair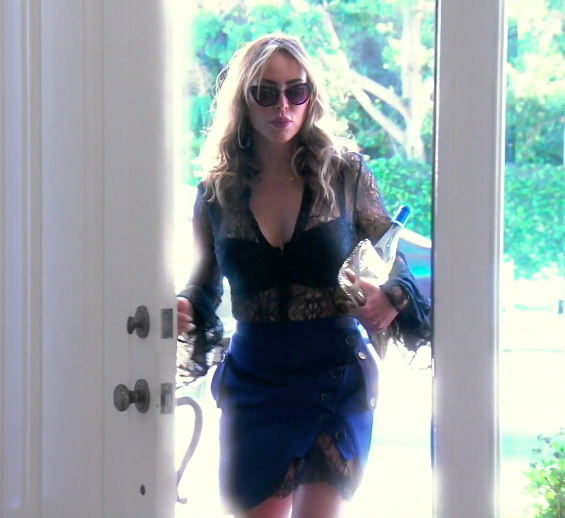 Click Here to See Her Sold Out Self Portrait Lace Paneled Wrap Effect Skirt
Click Here for Details on the Lace Bodysuit She Paired it With
Style Stealers:

Shop Other Fashion and Style Recently Seen On + Inspired By Bravo TV:

Have you seen fashion on the Real Housewives or any other Reality TV style you can't live without? Post a comment below, Follow @BigBlondeHair on Instagram, tweet @BigBlondeHair or leave a comment on  Big Blonde Hair's Facebook.