Khloe Kardashian's Grey H Blanket
Khloe Kardashian's Grey H Blanket in True Thompson's Nursery
Keeping Up With The Kardashians Decor
Khloe Kardashian's grey H throw blanket in True Thompson's nursery isn't exactly what you'd expect in a newborns room. Either True is the most fashionable baby trendsetter ever or the cashmere throw is really for Mama when night duty calls. Either way, the designer throw breaks up the pink with soft grey color. Usually, you see a throw like this in a living room, but Khloe probably has one there too, in addition to the nursery. Is my envy showing? Interested in the rest of the nursery? Click here to read about the pink butterfly mobile. Click here to read about the clear crib. Click here to read about the flamingo crib sheet and pink bunny.
Until next time,
Chelsie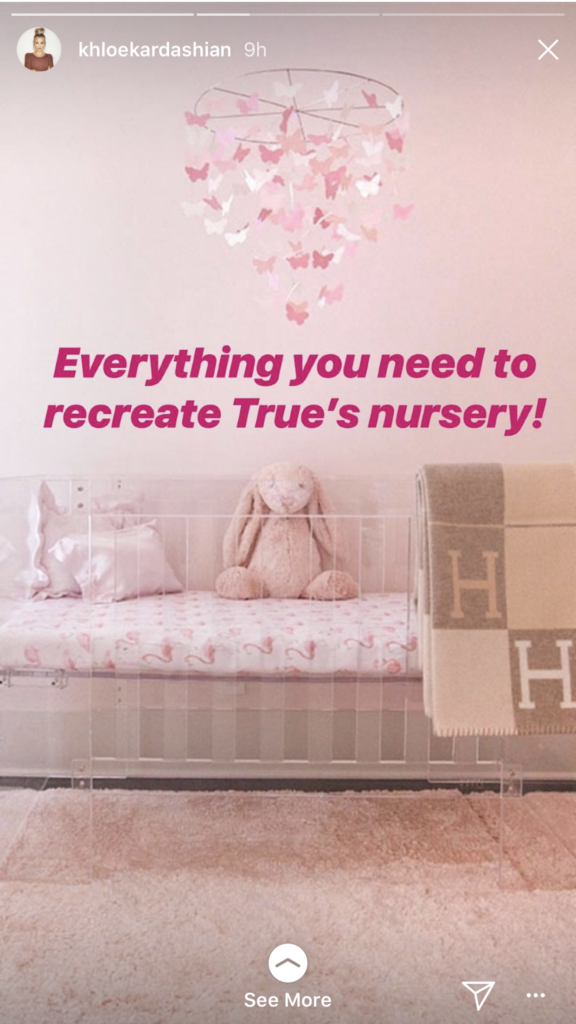 Click Here To See The Sold OutHermes Throw
Style Stealers:

Photo: @khloekardashian on Instagram Stories
Shop Other Decor Seen On + Inspired By E! TV:

Have you seen fashion on the Real Housewives or any other Reality TV style you can't live without? Post a comment below, Follow @BigBlondeHair on Instagram, tweet @BigBlondeHair or leave a comment on  Big Blonde Hair's Facebook.