Kim Kardashian's Red Lace London Dress
It's no secret that when I "watch" Keeping Up With The Kardashians I only pay attention to two things. #1- The fashion. The girls have amazing style #2 – Khole's mouth. The girl is hilarious.  But this time there was an exception. And that exception when Kim walked into her hotel room and her man Kanye, who happens to be one of my faaaave rappers of all time, had bought her a boat load of clothes…Like a new wardrobe.  Go on girl, go 'head get down.
Kim Kardashian's Red Lace London Dress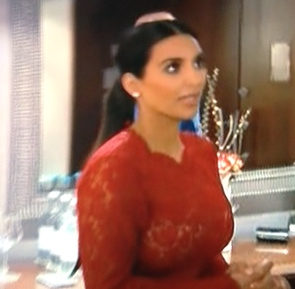 Valentino Long Sleeve Lace Bow Back Dress
Style Stealer:
Sentimental Ring Back Lace Dress  $139
Have you seen something on a Housewife or celeb you can't live without? Post a comment below, tweet@BigBlondeHair or leave a comment on The Big Blonde Hair Blog's Facebook page.