Kris Jenner's Red Velvet Blazer
Kris Jenner's Red Velvet Blazer in Her Meeting
Season 15 Episode 10 Keeping Up with the Kardashians Fashion
Per usual, Kris Jenner is taking care of business in her red velvet blazer. Kris is meeting with a gentleman who runs a non-profit organization called 'Red Eye' so what's more fitting for the occasion than a red blazer? Though I doubt that was her main motive, the velvet on the blazer shows a softer side to the sturdy message of this business-inspired attire, kind of like Kris is doing with this fundraiser. He came to the right woman for the job with her big connections and seemingly even bigger heart.
On another note, I cannot be the only one craving red velvet cupcakes after all this talk, amiright?
Sincerely Stylish,
Jess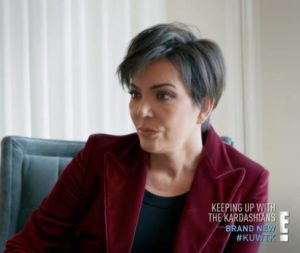 Click Here To Shop Her Gucci Red Velvet Blazer
Style Stealers:

Shop Other Items Seen on Keeping Up with the Kardashians:

Have you seen fashion on the Real Housewives or any other Reality TV style you can't live without? Post a comment below, Follow @BigBlondeHair on Instagram, tweet @BigBlondeHair or leave a comment on  Big Blonde Hair's Facebook.