Kristin Cavallari's True Comfort Cookbook Review
We've all been patiently waiting for Kristin Cavallari's second cookbook, True Comfort, and the late September launch was timed perfectly with the changing seasons. Like its predecessor, True Roots, True Comfort has more than 100 delicious recipes free of gluten and refined sugar.
For this review, I chose a handful of recipes trying to hit each section of the book; mornings, lunches, soups, cozy nights, sides, quick bites, desserts, drinks, and staples. Each recipe I chose had to fulfill one of two criteria I set for myself. One, it had to be a dish I've never prepared before or two, the recipe had to have ingredients I wouldn't typically use offering a variation to my norm.
Kristen's True Comfort cookbook packs a punch and delivers wholesome, delicious, and inventive meals that I cannot wait to continue to explore all winter long. Continue below to read about the recipes I selected to make for this review!
See you in the kitchen,
Chelsie
Slow-Cooker Banana Bread Oatmeal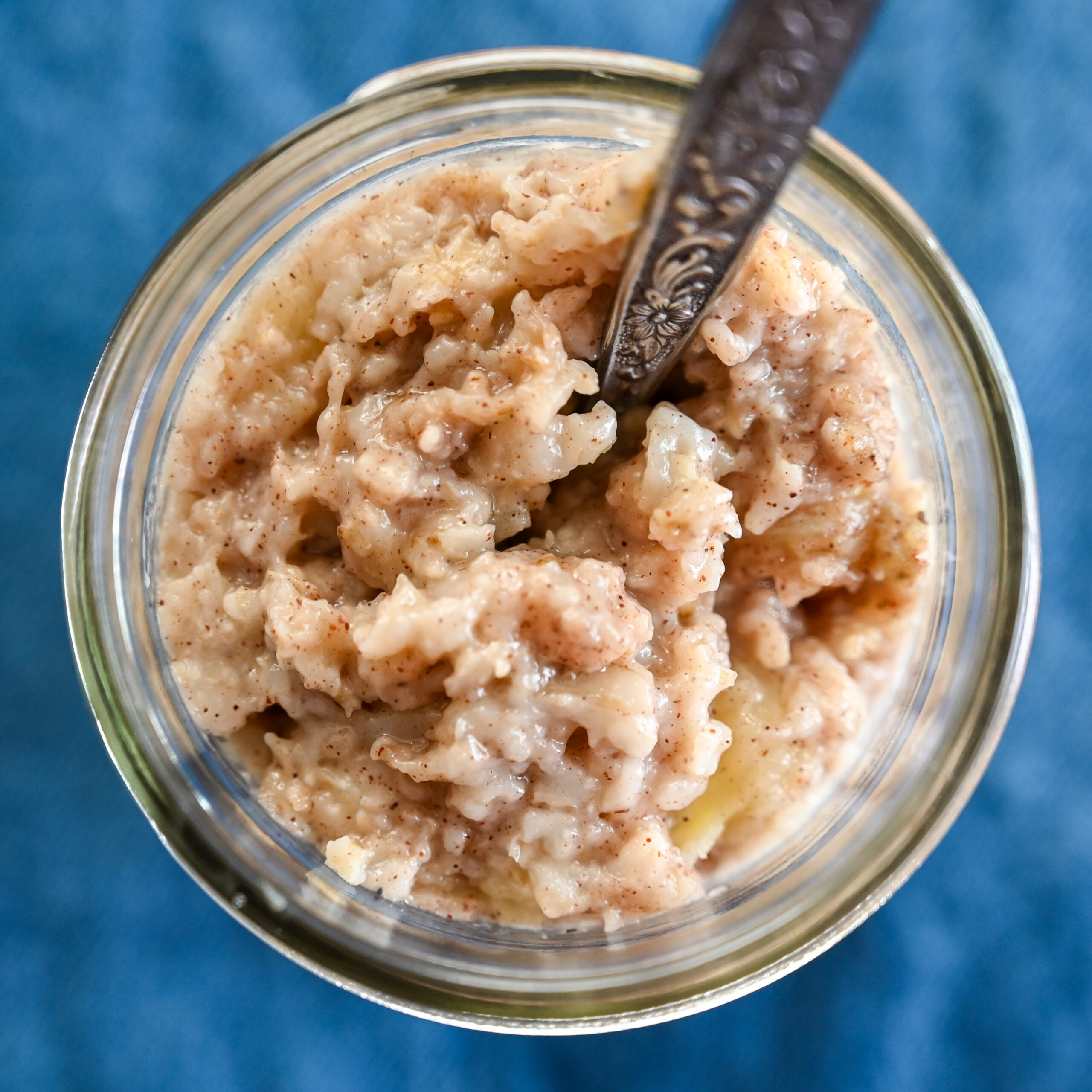 Slow-cooker banana bread oatmeal just sounds delicious, doesn't it? While this recipe didn't disappoint, it didn't come without a little trial and error, either. Saturday night before going to bed, I combined all the ingredients and turned the slow-cooker on low, excited to be woken to what was sure to be a sweet, warm aroma. Eight hours later, I woke up and sure enough could smell the delicious oatmeal, but it was also 4:30 a.m. on a Sunday. So, I snoozed another hour and when I woke up again, the oatmeal was ruined. Totally burnt.
Not all was lost though. I wasn't ready to give up and I found a way to make this recipe work for me. I was headed out the door for an hour or so. I combined all the ingredients in the slow-cooker and this time, set it for high. An hour and a half later, the oatmeal was perfectly done. And, it was amazing – creamy, sweet, and simple. Maybe not the best option on a weekday for a busy mom or working professional, but for an easy Sunday morning, it's perfect.
Pumpkin Banana Muffins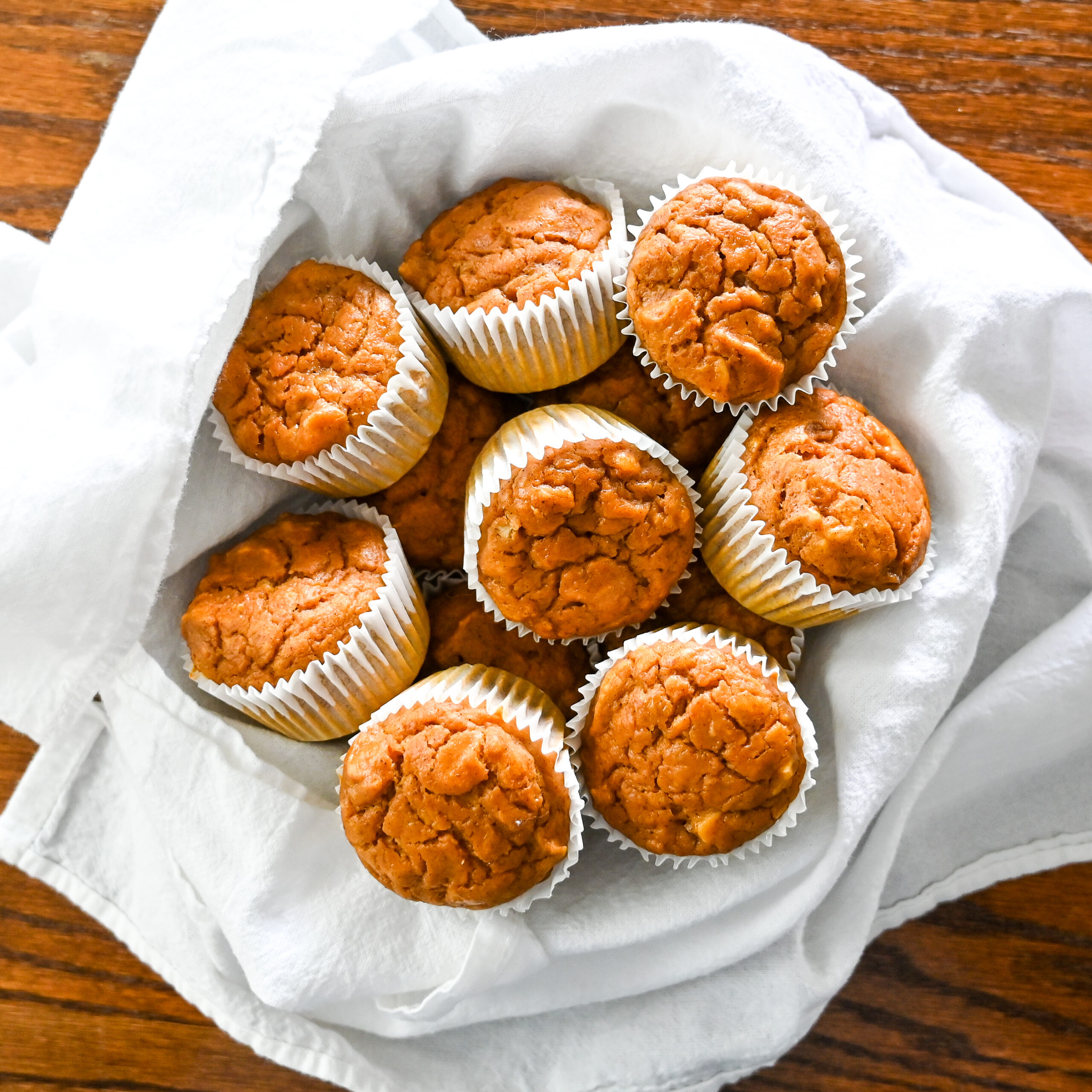 It wouldn't be fall without pumpkin everything and here in Northern Idaho, the air is crisp, the trees are turning, and I'm basic drinking a pumpkin spice latte. Kristin's pumpkin banana muffins are the perfect fall treat. They are flavorful, moist, and light. The recipe calls for oat flour, but, since I didn't have any on hand I used what I had so mine were not gluten-free. The only thing I would do differently next time is to not use paper liners because I found the muffins stuck to the liners and I lost too much of the muffin to the liners. That is one of my biggest pet peeves with muffins so I'll use my silicone muffin pan I love dearly to solve that issue.
Cucumber Salad with Dill and Shallots
While most of the recipes in True Comfort is what I would classify as fall/winter, this recipe is light and to me, a great summer dish. With all the soups and heavy comfort meals that tend to signify colder weather, the cucumber salad with dill and shallots is a nice break. I followed Kristin's lead and made it for lunch and I must say, I was pleasantly surprised. The combination of fresh ingredients pulled together by the creamy dressing is refreshing, light, flavorful, and satisfying. Defiantly a good light lunch to keep in rotation, even in the dead of winter.
Chicken Tortilla Soup with Poached Eggs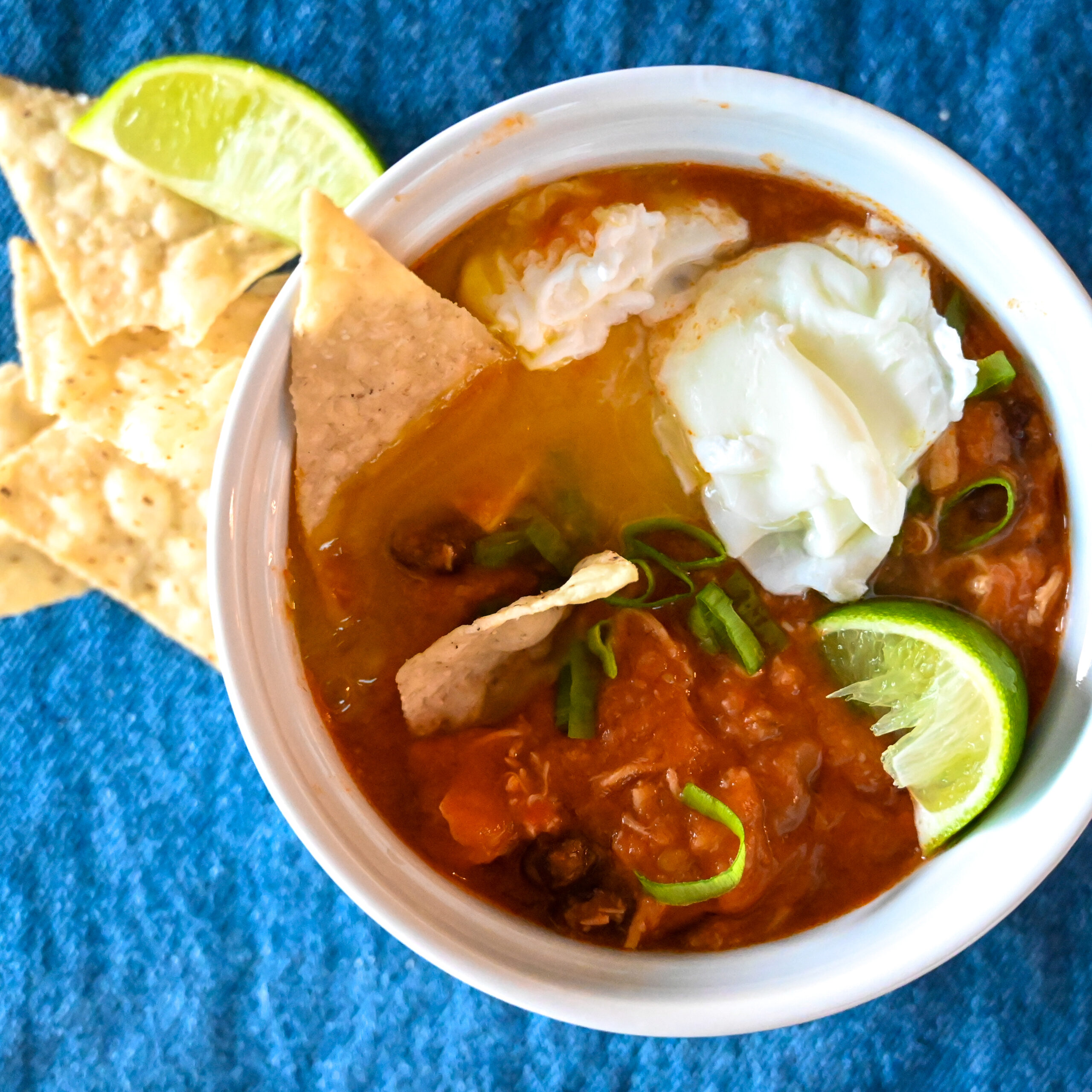 Soup season is here! I love a good chicken tortilla soup and when I make it at home, I typically will use a slow-cooker recipe that has been my go-to for years. Not anymore. After making Kristin's version, I'm ready to level up. While it is a little more involved than throwing all the ingredients in a slow-cooker, the extra effort is so worth it.
Two things that make this soup better than your typical chicken tortilla soup. Tortillas and eggs. A lot of recipes call for tortilla strips or chips as a garnish but Kristin's recipe incorporates toasted tortillas blended with the soup base – game changer. Maybe I've been living under a rock, but for me, this made all the difference in the world. The other must try is adding a poached egg, or two. Kristen says she first had chicken tortilla soup with poached eggs on a trip in Mexico and will never have it any other way again.  I'm right there with her. Only way to have chicken tortilla soup from now on.
Red Wine-Braised Short Ribs
Red wine-braised short ribs is an instant favorite. I'm no stranger to making red wine-braised beef dishes, after all, that's how I make my favorite Shepards pie recipe. So I was excited to try my hand at this recipe from True Comfort because I've never actually made short ribs myself before. The finished product was finger-licking good. The sauce was out of this world delicious and the ribs were so tender they literally fell off the bone. It probably took about four hours start to finish and smelled amazing the entire time. Bonus, there is half a bottle of wine left over in the end so make sure you use some good stuff you can enjoy while you eat!
Slow-Roasted Chicken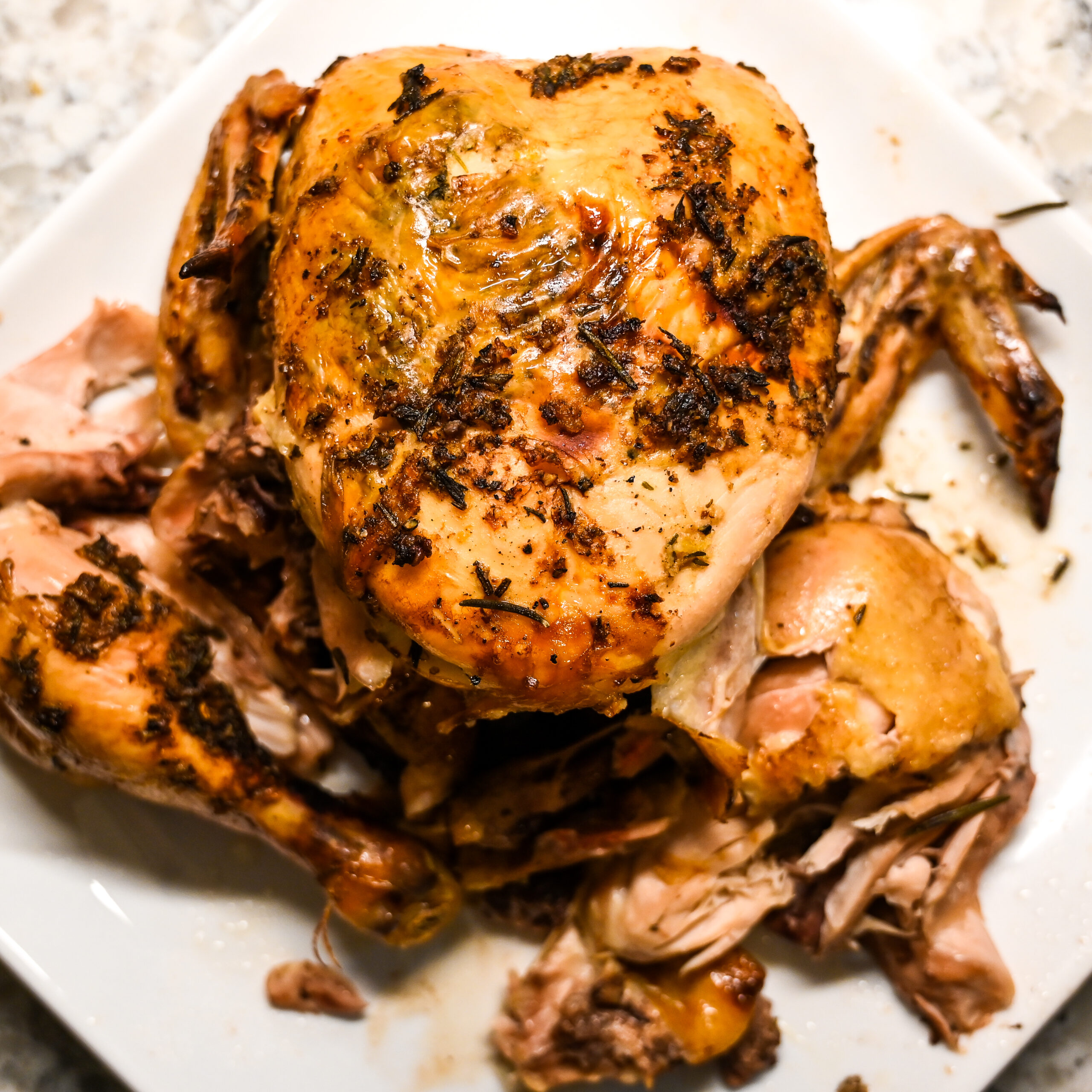 Another dish I have never made before, a whole chicken, slow-roasted. While it turned out delicious (the meat was juicy, tender, and fell off the bone to the point it was difficult to remove from the dutch oven!) – it took nine and a half hours. Nine and half! I could hardly believe it when I started prepping the chicken and finally read the part of the recipe that warned of the lengthy time. Lesson learned, read the recipe in full first. None the less, the chicken turned out super yummy…at nine p.m. and was just as good the next day for lunch.
I'll absolutely roast a whole chicken again using this recipe, I just know better now and will start it much earlier!
Thanksgiving Day Stuffing
This. This was hands down my favorite dish I've tried so far from True Comfort. Unfortunately, I had a difficult time finding cubed bread at my local grocery stores so early in the season, let alone cubed gluten-free bread. Instead, I opted to cube and dry country white bread myself. I also couldn't find sweet Italian chicken sausage so I subbed in chicken and apple sausage. Aside from having to wait for the bread to dry, I don't think this recipe could be any easier and it has 100% ruined box stuffing for me. The best Thanksgiving Day stuffing, ever.
Bacon-Wrapped Butternut Squash
I was so excited to try this recipe because the combination of bacon, butternut squash, and cinnamon sugar is something I would have never thought to try. In fact, butternut squash has never been high on my  yummy list but after making this and Kristin's butternut squash mash with roasted garlic, I've officially been converted into a butternut squash lover. The bacon-wrapped butternut squash was so mouth-watering, savory yet sweet, and the perfect go-to nibble on game-day Sundays. It's also super easy to make and keeps well for next-day leftovers.
There were two more dishes I made from the True Comfort cookbook that aren't above – butternut squash mash with roasted garlic and honey vanilla marshmallow. The butternut squash mash turned out delicious and will be on the Thanksgiving menu this year for sure. The honey vanilla marshmallow dessert I failed at miserably. Well, I guess I can't say I totally failed because my second attempt seemingly worked out ok – I just had a hard time getting past the smell of plain gelatin. I've never liked the way it smelled – unless covered up by strawberries and Prosecco in Jello-shots, but even then while making the shots, I had a difficult time and it almost ruined it for me! Unfortunately, the honey and vanilla wasn't strong enough and I could still smell the plain gelatin, which is disappointing because I love the idea of making fresh marshmallows from scratch.
***********
Be sure to get your copy of True Comfort ASAP! You won't want to miss the comforting recipes this upcoming cozy season. Or, gift it to someone who loves to cook! For some of the kitchen tools I used while making the dishes above, check out the Shop Other below.