Lauren Loves: A Jumpsuit & Black Sheer Striped Duster
Lauren Loves: A Jumpsuit & Black Sheer Striped Duster
Real talk: Walking around with baby weight post baby is hard. Despite what you see from many bloggers and celebs, it's not the norm for the weight just to fall off, it takes tons of work. And while it's hard to remember it's just the reality of most of our lives—especially if you were like me and didn't work out during pregnancy—there's an expectation to look thin as a blogger, and I definitely feel a somewhat unrealistic pressure to lose the weight or pretend that it's just fallen off. At my 6 week appointment two weeks ago I still had 20lbs to go and I'm still in maternity clothes, so finding ways to look thinner and still chic, without spending money on pants in a size above my goal weight, is my mission right now. And for those saying I don't look like I have that much to go (Thanks Mom ;-)), it's all about knowing how to dress.
That's why I love this jumpsuit from Loyal Hanah. It's a maternity jumpsuit that is also a nursing jumpsuit for after baby, and I absolutely love it. While I'm not someone who is super comfortable with breastfeeding in public, it gives me the option of doing so easily (under my fave nursing wrap available here) with it's surplice button front, all while being dressy enough to put heels on with and wear to dinner. It definitely doesn't scream "I'm a nursing jumpsuit", it's neckline and cut are totally chic, and perfect for laying with dusters and long sweaters for the fall.
Even if you aren't fighting post-baby bulge, I love this whole jumpsuit and sheer duster look for fall so I linked to a non maternity jumpsuit below, although I can totally see myself wearing this one even after the weight is gone!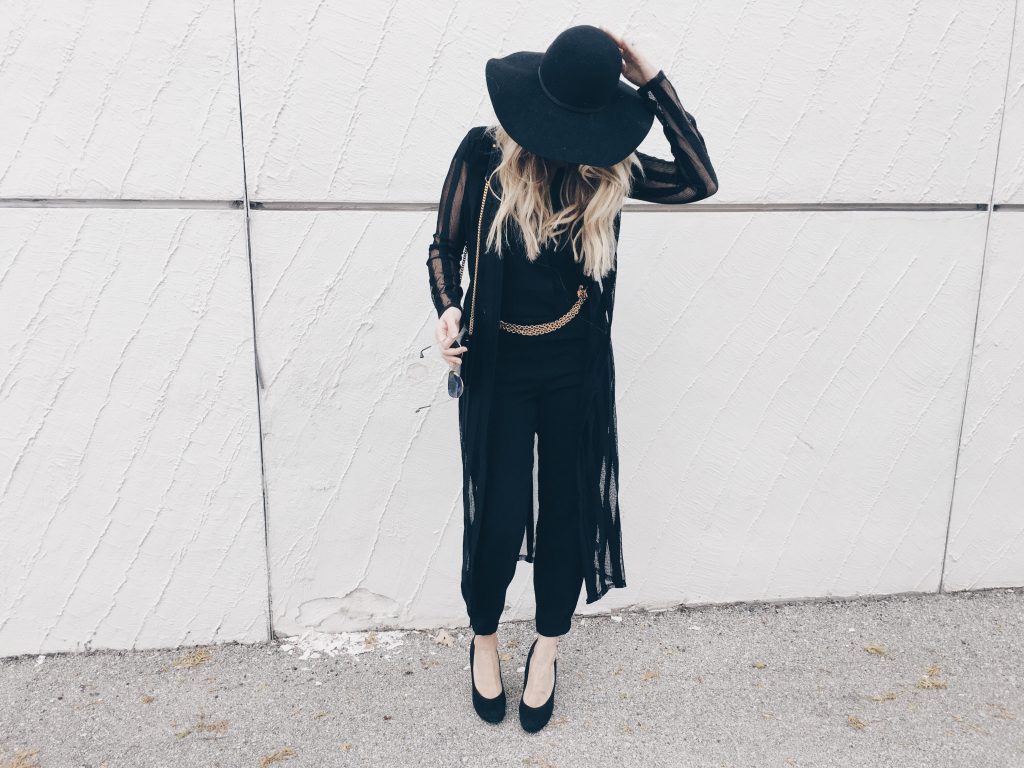 Loyal Hana Celia Short Sleeve Maternity / Nursing Jumpsuit
Shop Non Maternity Jumpsuits Here
Chanel Logo Belt Shop / Shop Similar Here
Suede Block Heels / Shop Similar Here
Nasty Gal Ballsy Hoop Earrings
Saint Laurent Monogram Wallet on Chain

Also in my house and closet:

After about 6 years of covering celebrity fashion, I've only shown you a small fraction of my rather large closet and fashion knowledge. That being said, in 2015 I decided to dive in to a new "Lauren Loves" feature on BigBlondeHair.com.  It focuses on my outfits, reviews, Chicago favorites and events.  Reviews are unpaid (unless notated Sponsored) and are my own opionion. Please feel free to comment with questions about sizing, retailers, styling or anything else. Xo & Happy Reading