Get The Look: Lea Black's Black Cutout Dress
On tonight's Real Housewives of Miami, there is fighting in a club, and Lea Black's dress gets slashed! Okay, well, maybe the dress came that way. but it's fun to pretend we are  talking about Real Housewives of New Jersey, isn't it?
Lea Black's Black Cutout Dress at Romain's Club's 10th Anniversary Party
Style Stealers:
Donna Mizani Asymmetric Cutout Dress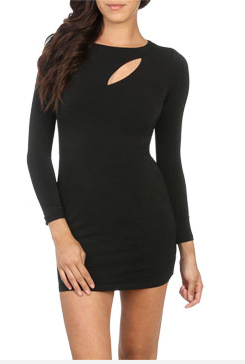 Arden B Long Sleeve Cutout Dress
Have you seen something on the Real Housewives or any other Reality TV fashion you can't live without? Post a comment below, tweet @BigBlondeHair or leave a comment on  The Big Blonde Hair Blog's Facebook page.