Marisa Zanuck's Moroccan Dinner Dress
Birds of a fashion feather flock together, and last night Kyle Richard's friend Marisa Zanuck continued to prove that she is stylishly compatible with Kyle, with her Moroccan dinner party kaftan by one of my favorite designers. We can't wait to see what else is in that closet of your Marisa, so keep 'em coming.
Click here for details on how you can enter and win Kyle Richards' Gold Morrocan Dinner Earrings!
Marisa Zanuck's Turquoise Beaded Maxi Dress at the Moroccan Dinner
Beaded Long Kaftan by Camilla Franks
Check out Kyle Richards wearing a similar style here
Style Stealer: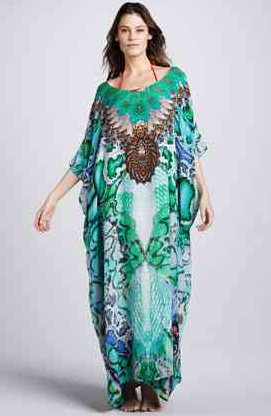 Camilla Franks Land of Wonder Beaded Kaftan
Have you seen something on the Real Housewives or any other Reality TV fashion you can't live without? Post a comment below, tweet @BigBlondeHair or leave a comment on  The Big Blonde Hair Blog's Facebook page.