As everyone knows, I do love a good, fitted maternity dress and duster, or even tank and skinny jeans. And while those combos totally create a slimming illusion, sometimes I just want to be comfortable. And sometimes I have to get dressed for dinner a few hours after my doctor told me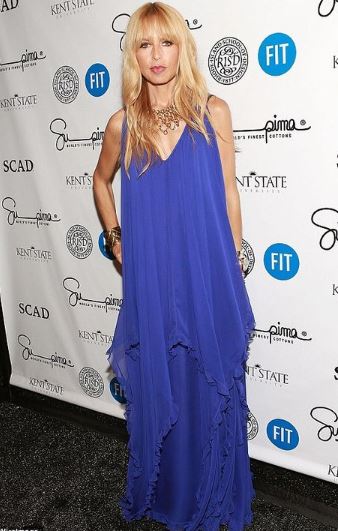 I gained 10lbs since my appointment the prior month so I don't even want to dream of getting into anything tight 😛 . It's times like this when a maxi comes into play.
Although there's nothing wrong with it, I feel like the solid and even printed maxi for maternity is overdone and can look pretty basic, and I never wanna be basic, especially at nighttime. So I decided to style this comfy, double layered, cobalt blue maxi from Brooklyn-based line Leota (which I also love because it's crepe, not-jersey like every other maternity maxi) with a boho glam feel drawing inspo from boho maternity fashion queen Rachel Zoe.  I drew from a few of her looks, but mainly a more toned, casual down version of this maxi dress and fab necklace , in addition to this cobalt dress and gold necklace look (to the right) that I created with jewelry I already had and then topped off with some hippie-chic circle sunnies and a braid, which is admittedly a braided hair piece since I can never get it right on my own!
When pregnant, Zoe always steps out in a great maxi or caftan and accessories, so she's great for inspo if you're ever at a loss or don't feel the tight fitting dress vibe that I've been drawn to. You can shop my look below and also shop Zoe's own maternity line here.
Lauren Loves: Rachel Zoe Inspired Boho Glam Maternity Style
with a Cobalt Blue Maxi Dress, Gold Accessories & Braid
Leota Maternity Isabella V Neck Maxi Dress // Available Here in 4 Colors
Chloe 62mm Sunglasses // Available Here in 6 Colors 
Snake Wrap Bracelet // Available Here
Enzo Angolini Embellished Sandals // Sold Out // Shop Similar Here
Layered Chain Necklace // Available Here
Vintage Chanel Belt Worn as a Necklace // Shop Similar Here
Just Braydz by Chaya Fishtail Headband // Get Information Here

After about 5 years of covering celebrity fashion, I've only shown you a small fraction of my rather large closet and fashion knowledge. That being said, I've decided to dive in to a new "Lauren Loves" feature on BigBlondeHair.com.  I'll focus on my outfits, reviews, Chicago favorites and events.  Reviews are unpaid (unless notated Sponsored) and are my own opionion . Please feel free to comment with questions about sizing, retailers, styling or anything else. Xo & Happy Reading