Do you know who made Rachel Zoe's gold sunglasses from this weeks show? Thank you!!! Johanna via Big Blonde Hair on Facebook
Life has been crazy lately, so crazy I am just spending some time catching up on episodes of The Rachel Zoe Project and Rachel's MAJE fashion statements. And I have a feeling I'm going to be spending even more time searching for ALL of her sunglasses, because this chick wears more sunnies indoors than a rockstar. And with the amount of time it took me to nail these babies down, it's going to be a looooong season. And hopefully a long, sunny season.
Rachel Zoe's Gold Sunglasses at Paris Fashion Week
Rachel Zoe / Twylah.com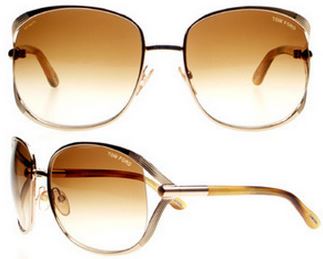 (After MUCH rewinding and slow motion you'll notice they are an "open temple" style aka space between lens and arm)
Style Stealers:
Oliver Peoples Daisy Sunglasses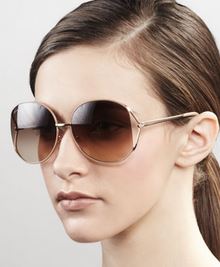 Marc Jacobs Oversized Square Sunglasses
Have you seen clothing on a The Real Housewives or a Reality TV Star that you can't live without? Post a comment below, tweet @BigBlondeHair or leave a comment on The Big Blonde Hair Blog's Facebook page.