In  Part 1 of  my interiew with REAL Housewives of New Adina Barbara and Danielle Murphy  we talked about what life is like for a REAL Northern New Jersey housewife, living fabulous lives without cameras rolling.  They shared style tips, their favorite designers and more.  Now the ladies are back to keep it real and give us the dish on how to get flawless skin, look stylish in the South of France, the magic of Birkin Bags and their advice on how a girl on a budget can look like a million bucks. 
Don't forget to follow @AdinaBarbara and @Mrs_Murph17 on Twitter to keep up on their lives in the fab lanes and tweet them your style and beauty questions!
Okay ladies, what are your best beauty tips for a girl who has no clue what they're doing and doesn't know makeup very well:
Daniella: No lipliner (laughter)
Adina: Ding ding ding!  Actually, lip liner if fine, again, as long as it's nude. I think you definitely have to make sure you have good foundation that matches your skin tone because when if you have that line around your it's not sexy.  And I use Chanel Perfection Lumier.
Also, enhance your best feature.  If you play up your eyes, then don't play up your lips. If you're going to wear red lipstick, then wear just a little mascara. I think you should always have that J.Lo glow. My little trick is I use white shimmer eye shadow and I put it at the corners of my eyes in the inside and on the outside. I get so many compliments, everyone asks me, what is that? What is that? It's my little trick of the trade,  and it works.
SEPHORA COLLECTION Colorful Mono Eyeshadow Wedding Day 24 $12
*Actual shade used by Adina*
Daniella: I think under eye concealer is a must, I use Chanel , and then I'm in love Bare Essentials powder I just dust it all over and and run out the door in the morning for a day time look. And like Adina I love Chanel foundation, it's wonderful it makes my skin feel like cashmere, it's so good. I have eyelash extensions courtesy of Erica at Eric Alt Salon, and I love them and I rarely use mascara. I think it's definitely a must if you're going to run out the door and just wanna your eyes to pop a little bit. And definitely lipstick, I'm obsessed with YSL. It's creamy, it lasts long, and they have great colors.
Bare Escentuals Powder
Chanel Lift Lumiere Smoothing & Rejuvenating Eye Contour Concealer
For skin care, I have been an avid Olay user for years. My grandma Connie always slapped it on my face when I would sleep over at her house and to this day I still use it. Also I have a great facialist who made me this mixture of an Aveda tourmaline charged cream, and I mix it with a Kales Recovery Concentrate, and before I go to bed, I lather it up especially in the winter time when its dry.
You ladies have closets full of the best designer labels, but what's your advice for girls that are on a budget? What are just a few key pieces to start out with?
A: Start with the a perfect little black dress or white blazer, which you can find really anywhere from Bebe to Zara. You can take a blazer from day to night, dressing it up or down with $10 black leggings and a pair of black stilettos. They have great stilettos at Nordstroms by everyone from Vince Camuto to Christian Louboutin. That's really all you need to look good. You can throw on your black blazer with a pair of jeans and a pair of nice shoes, you'll look great, and it won't even cost you much.
D: Start out with a great designer bag.  Just save up for that, even if you have to have fruit loops and water for months. A great bag and great shoes are the best thing to invest in. Then put on a great pair of jeans that you've had in your closet and a t-shirt with a blazer from Zara , H&M  or even Forever 21. I do it, I mix lower priced things with my designer pieces, and no one would ever know… Unless they stalk the malls like I do!
Jessica Bara Shimmery Black Leggings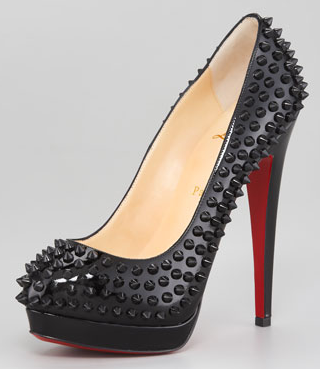 Christian Louboutin Alti Spiked Pump
What is your favorite item in your whole entire closet?  I'll let you pick two if you can't just pick one. 
A: My favorite item is my Hermes Birkin bag. I love it, and I save it for the summertime because I have a white one. When I wear that bag, I just feel different. I can't explain it, I feel like it's a status thing and you could wear Forever 21 jumpsuit with Converse sneakers, but if you have that bag people look at you and they absolutely one hundred percent treat you differently.  You can walk into Nieman Marcus with that bag looking really dumpy and they they will treat you differently because you are holding a ten thousand dollar bag. Its definitely my absolute absolute favorite item in my closet and I treat it like a diamond.
I also love wearing stuff  that you got towards the end of this season, that people can't get. I really enjoy it the following season because then no one can get it.
D:  And then you know they're going to look for it but can't get it anymore.
I just scored recently pair of Christian Louboutin studded boots that are my favorites.  I call it the Khloe boot because I kept seeing it on Khloe Kardashian when she was running through the airport or going to a Laker game.  And of course I have bags that I love but right now I'm in love with my boots.
What's the most major fashion faux pas you've made in your past that makes you want to rip up old pictures? Every fashionista has them…
A: Oh God, I don't know what possessed me to do this, but I have naturally curly hair and when I was younger I used to get spiral perms every six months because I guess I didn't think my hair was curly enough. And  I used to wear those tiny, tiny half shirts with the  high waisted pants – It didn't look good.
D:  I don't know why my mom even let me do this, but when I was in college, I would match everything. I would have  scrunchy suede boots in Kelly green, and then I would wear them with leggings and match my sweater to my boots to a Kelly green scrunchy. I'd do it with other colors too.  I had the fuchsia boots with the fuchsia sweater and a fuchsia scrunchy. I don't know how I got a date. And I went to school in Rode Island, in the land of LL Bean and I was totally rocking Jersey. Everyone knew I was from Jersey!
 what's your favorite place to vacation and what do you pack when you go? 
A:  My favorite place to vacation definitely has to be the South of France. I think it's very important to always pack several big hats and sunglasses for the beach. You want to make sure you keep your face looking young. As far as clothing, for the night I think Holt mini-dresses would just kill it in the South of France or anywhere. Pair them with amazing sky-high shoes with crystals on them and you're going to look like a million bucks.
Adina wearing the Holt Liza Puffy Paint Dress
Get Adina's Sunglasses Here for only $39
D:  We have a place in Palm Beach that go to in the wintertime to get away from the cold weather,and we usually fly back and forth like every two weeks.  Considering Palm Beach is super conservative,  and a lot of people on the island wear Lily Pulitzer, I usually just pack  a great pair of heels,  a little fitted dress, and  all my great jewelry.   I try to keep it simple and  just try to dress my age when I'm there.
Daniella in an LBD with her Reve Boutique phone case
 And finally, lets shed a little light on the men in your lives, since there's no being a Housewife without them. Who are the lucky guys and how did you meet?
A: I met  my husband Jason in law school. I was a 1st year and he was a 3rd year. I quickly realized law school wasn't for me so I left and instead went and got my Masters in Psychology. However, what I did get out of law school was  Jason. From the first moment I laid eyes on him I knew we were destined to be together. I even told my girlfriends that he is going to be my husband before I even knew his name. They laughed at me. We ended up becoming friends and then disconnecting for about 6 months until one night he called me and asked me to go on a date. Our first date was at the Oak Room in The Plaza Hotel and our wedding was at The Plaza also. 8 years later…….
Jason is now a  Lawyer / Partner at  Jason Barbara & Associates, P.C. (Website: longislandlitigators.com )specializing in divorce and criminal law.  He's been lucky enough to recently be a guest on Anderson Cooper and Good Day New York .
D: My husband Jack Murphy and I, met way back in September of 2004. I had recently moved to Hoboken NJ and had been working during the day in NYC and at night, when my ex had the kids, I would hostess at a local place, City Bistro. On a slow night  and my Manager Gina asked me to have a drink with her. Our dress code had taken a drastic turn and we were NOT allowed to wear jeans at the hostess stand. UGH., I did not OWN khakis and now found myself running to the Gap to buy a pair.. God awful!! It was pouring rain out that night,  I had awful khakis on and in walks Jack Murphy. Gina says to him, 'JACK MURPHY get over here and meet this girl!', and she conveniently slips out the back door! Jack and I start talking and showing each other pictures of our kids. After a few drinks, I had to leave, Jack  (of course) writes his digits on a napkin. The next weekend was Labor day and I had my kids so I didn't call him.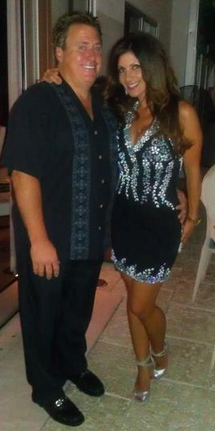 Daniella and her husband Jack

One night, not long after that meeting, I am at my usual post right in front, and I see a Range Rover (my dream car) , drive by the restaurant, and a few minutes later Jack Murphy walks in. But this time with the local talent ( if you don't know what that means: STRIPPER). He hugged me and said she was just a friend and to join him on the roof for a drink, after my shift. I was like: 'HELL NO'!!! I skipped on the drink offer and met my girlfriend and downed a dirty martini, real fast!
I show up for work the next night, and there was a disgusting array of flowers for me. Exotics to be exact.  The card said: YOU ARE ADORABLE…CALL ME JACK . Thank god he put his number down again because I had ripped up the napkin,after the stripper date. I called him and thanked him, it was short. He called the next day and we set up a date for  the following Monday.
We meet for dinner, talk about our ex's, kids and hobbies, later to find out, we ate at Table 11 on October 11th.  A sign? After many bottles of Silver Oak, a great, strong Cabernet, we head over to another bar in town and I begin  to realize that everyone knows Jack Murphy. A few more glasses and its 'that time' . To end the date or not to end the date?! Jack Murphy says: 'I have such a long ride back home to South Jersey'. I say 'Well I have futon, you could totally sleep on that…'
6 months later we were ENGAGED! It must have been one comfy futon!
A special thank you to Adina and Daniella  for taking the time to share their secrets and give us a look into the lives of REAL Housewives of New Jersey. Have more questions or want a daily glimpse into their fab lives? Follow them on Twitter @adinabarbara  and @mrs_murph17 .
Have you seen something on a Housewife or celeb you can't live without? Post a comment below, tweet @BigBlondeHair or leave a comment on The Big Blonde Hair Blog's Facebook page.