Stassi Schroeder's White Vest
Like Stassi Schroder, I am a big advocate of the spray tan.  However, Stassi's love for this very thing finally allowed me to catch her making a fashion mistake. White anything to a spray tan appointment is a total no – go. However, I'm pretty sure we'd still love her vest, even it it did end up looking a little bronzy on the inside.
Stassi Schroeder's White Vest Getting a Spray Tan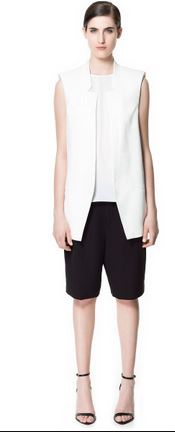 Zara Waistcoat with Lapels Sold Out
Style Stealer:
Have you seen clothing on a The Real Housewives or a Reality TV Star that you can't live without? Post a comment below, tweet@BigBlondeHair or leave a comment on The Big Blonde Hair Blog's Facebook page.