Tamra's sunglasses at the clambake … To die for! Kim via Big Blonde Hair on Facebook
Where Heather Dubrow is from, a clambake means a classy, white tablecloth event that people get dressed up for. Where I'm from, I'm pretty sure it means something totally illegal and different. But the fact of the matter is, sunglasses are very useful in both of our clambakes. And Tamra Barney brought out her best with her gorgeous gold figure 8 sunglasses. And these very shades are one of my first Real Housewives favorite, trendsetting pieces. In fact, they first made their way into my purse about 2 years ago from my husband for Valentines Day, after I saw them on Kyle Richards and had to have them. And like me, Tamra isn't going to let a good thing go.  Or a chance to look sexy in shades at a party.
Tamra Barney's Gold Figure Sunglasses at Heather's Clambake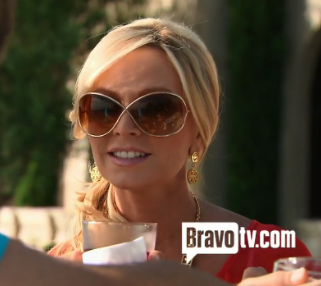 Also Seen on Kyle Richards, Me & Many More!
Have you seen clothing on a The Real Housewives or a Reality TV Star that you can't live without? Post a comment below, tweet@BigBlondeHair or leave a comment on The Big Blonde Hair Blog's Facebook page.