I'll tell ya one thing the garage scene on tonight's Real Housewives of Orange County proved; Vicki Gunvalson is a welllll dressed woman. I mean, I save a top like this for a dinner, not a car seat installation. But as long as she didn't accidentally rub up against the side of the car and get it dirty, more power to her.
Vicki Gunvalson's Red /Coral Split Sleeve Top in The Garage 
Cage Shoulder Top by Bebe
Style Stealer: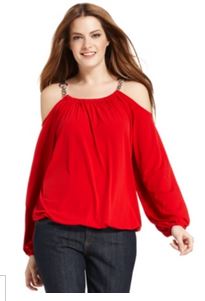 Have you seen clothing on a The Real Housewives or a Reality TV Star that you can't live without? Post a comment below, tweet@BigBlondeHair or leave a comment on The Big Blonde Hair Blog's Facebook page.