Based on past experience, one would think that if there are three Real Housewives in a room, drama is sure to ensue. But based on this photo of Joanna Krupa, Gretchen Rossi, and Lisa Vanderpump this isn't always the case. I guess when it comes to the 'wives, the only things that are truly black and white are in their closets.
Joanna Krupa's White Dress with Black Stripe on Instagram with Gretchen Rossi & Lisa Vanderpump
Boulee Marilyn Dress Available Here
Style Stealers: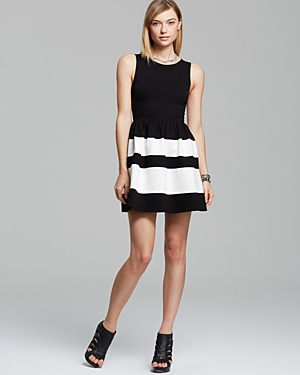 Aqua Striped Dress Available Here
Ivy Blu Fit & Flare Dress Available Here
Fable Striped Dress Available Here
Have you seen something on the Real Housewives or any other celebrity fashion you can't live without? Post a comment below, tweet @BigBlondeHair or leave a comment on  Big Blonde Hair's Facebook page.