Kelsey Peters' Blue Floral Blouse
Kelsey Peters' Blue Floral Blouse at Work
Younger TV Season 5 Episode 5 Fashion
Kelsey Peters' blue floral blouse is pleated perfection! I just want to tell you that I am so dedicated to you all and keeping you up to date on Younger fashion that it is 3am in Barcelona and I am under the covers finding fashion and writing about it on my phone. Have you ever tried blogging on your phone? Not easy.
But this pleated top is too cute for me not to give deets on and so here it is! I am also grateful that there was no Younger last week so that I only have to catch up on one episode without the risk of spoilers- something big happens in every episode, plus the clothes are sad to miss!
Hola!
Sally Steele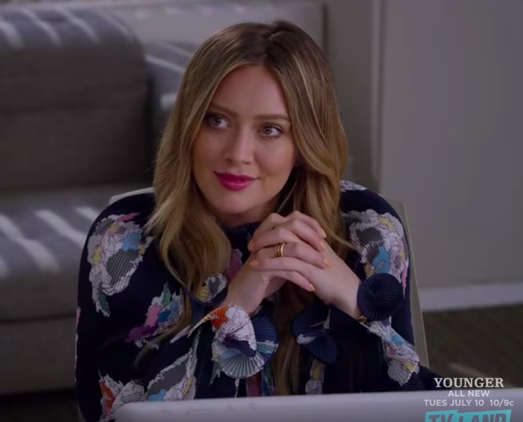 Click Here to Shop Kelsey's Floral Top on Sale!
Have you seen fashion on the Real Housewives or any other Reality TV style you can't live without? Post a comment below, Follow @BigBlondeHair on Instagram , tweet @BigBlondeHair or leave a comment on  Big Blonde Hair's Facebook