Why I love this look: Sequins used to only be appropriate for NYE and Vegas, but pairing a sequin pencil skirt with denim is a fun way to incorporate them into a dressy-casual look. I also love a major statement necklace using denim as a base to totally make it pop and do something unexpected.
Where I wore it: Out to a weekday dinner in Bucktown in Chicago. It's the right neighborhood to mix things up and make a statement. A sequin dress would have been totally inappropriate, but this skirt totally worked!
Inspiration: I was inspired by many other bloggers that I have seen doing these pairings on Instagram and Pinterest! The necklace and skirt are part of my Lauren Loves x T+J Designs collaboration (more info here)  and the other items were all pieces of my closet. Sometimes doing things that are fun and unexpected with pieces already in your closet can be a totally fun way to revamp pieces in the back of your closet.
 Lauren Loves: Styling a Gold Sequin Pencil Skirt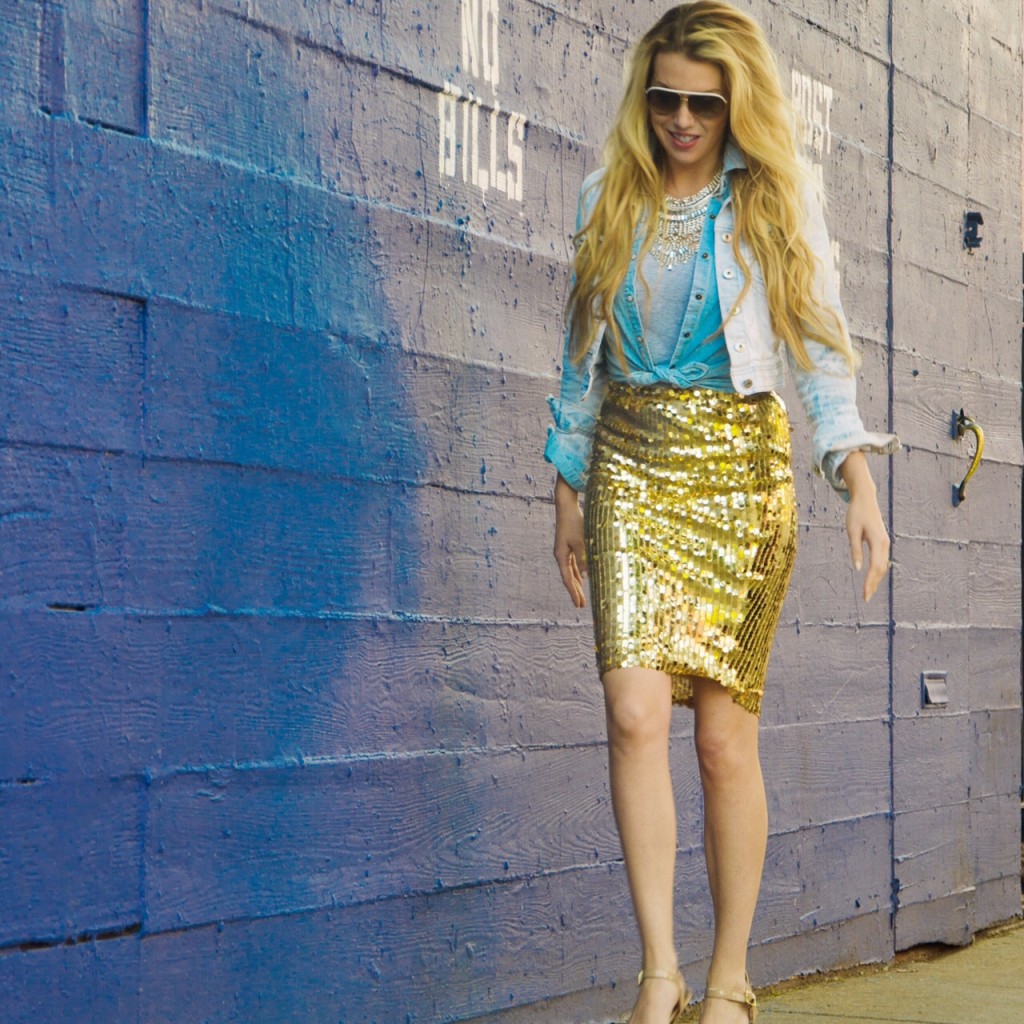 Click the links below to shop!
Gucci Sunglasess / Shop Similar Here at Neiman Marcus
Lexi Opulent Crystal Statement Necklace / T+J Designs x Lauren Loves
Denim Jacket / Shop Similar Here at Guess
Denim Shirt / Shop Similar Here at Norstrom
Gold Sequin Skirt / T+J Designs x Lauren Loves
Steve Madden Stecy Sandals / Nordstrom
Or scroll right and click the images to shop!

After about 5 years of stalking celebrity fashion, I've only shown you a small fraction of my rather large closet and fashion knowledge. That being said, I've decided to dive in to a new "Lauren Loves" feature on BigBlondeHair.com. Every Wednesday (and more), you can expect a new outfit post of my finds inspired by celebrities as well as my own taste. I'll feature everything from Saint Laurent to Forever 21 and tell you why I love it all. I own it all, so please feel free to comment with questions about sizing, retailers, styling or anything else. Xo & Happy Reading