Real Housewives of Beverly Hills Beauty Favorites and Our Amazon Picks
Real Housewives of Beverly Hills Beauty Favorites and Our Amazon Picks
I have a couple of favorite places to shop for beauty and makeup online, and Amazon is one of them. There are so many great finds and they're at my door so quickly I can't resist. So today I'm sharing my tried and true, go-to beauty products from Amazon that I cannot live without in addition to some beauty and makeup finds seen on the Real Housewives of Beverly Hills. Plus, many of my purchases were inspired by our fave Bravolebs and aren't to be missed!
Visit the Big Blonde Hair Amazon store for more beauty, makeup and fashion finds!
The Realest Housewife,
Big Blonde Hair
These are all products I have reordered 2+ times or organizational items I have used regularly for a year or more!
1. Makeup Organizers: I saw Kyle Richards using these organizers a couple years ago and have used them since! 2. St. Tropez Self-Tanner: I have used this product for about 10 years and it's my favorite self-tanner. Apply with a mit and buy this to correct mistakes. 3. Travel Makeup Organizer: Paige DeSorbo recommended this and it fits SO much and is legit the best. 4. Bum Bum Cream: I started using this 13 years ago when I was pregnant with my first son to prevent stretch marks. I started ordering it again recently and I get SO many compliments on the smell. It's a splurge, but I love it. 5. Pret a Powder: As a blonde this is my favorite dry shampoo. I have had brunette friends say it makes their hair a little to ashy looking but has been my favorite for 5+ years. 6. Kihels Avacado Eye Cream: Cary Brittingham recommended this on a BBH Closet Confessions and I love how thick it is for an under eye cream. 7.Tan Luxe Face Tanning Drops: BBH's Jessica came into my house one day extra glowy and let me know that she puts a few drops of this in with her lotion before bed and it gives a gradual tan and glow. And now I do the same! 8. Glamglow Thirsty Mud: Kyle Richards' MUA Pamela Brogardi used this on her. After I ordered it I was obsessed with them small and love that it's a mask you can let sit and rub in! I have given it as a gift many times in addition to re-ordering for myself. 9. TONYMOLY Face Masks: I ordered these on a whim because of their good pricing 4 or 5 years ago. They give me a similar Sephora mask vibe for less. Then they started stocking them at Revolve, so I knew I was on to something! 10. Peter Thomas Roth Gold Eye Masks: The minute we spotted Kyle Richards' using these we had to have them. They're pricey, but they last as they include 30 sets, which breaks down to $2.50 a wear. I've tried others, but you can actually feel these tighten and firm the skin. 11. Laniege Lip Mask: After seeing this used by Cameran Westcott, Madison LeCroy, Alexia Echevarria and more, how could I not try it? It is also endorsed by BBH's Faryn, who told me it was a must have before I decided to order. 12. Aquaphor Lip Balm: This is a Leah McSweeney staple, but I've also been using it for years and years because my mom worked at a top dermatologist for 25 years and the doctors swore by it for dry skin issues and more. 13. Beauty Bio Cryo Roller: I ordered this on a whim because I had a gift card and it now resides permanently in my freezer. It is an absolute must the morning after a wine night or any other time I'm feeling a little puffy! 14. V Line Lifting Chin Mask: If you told me I could only order 1 Amazon item for the rest of my life, it would be this. I have Re-Ordered this ELEVEN times! And this time I went ahead and ordered the 25 pack. I truly notice a difference in my jawline and don't leave for a night out without using one! 15. Real Techniques Foundation Blender + Blush: We've spotted Sutton Stracke, Jennifer Aydin, Whitney Rose and even Kim Kardashian using Real Techniques Brushes! And after BBH's Faryn let me know she's also a fan I couldn't resist. I'm truly obsessed with this brush and have ordered the eye and face brush sets to try! 16. Elta MD Sunscreen: Used by Kyle Richards, Nicole Martin and Leah McSweeney, I swore by this all last summer. I'm up for a reorder and am going to try the tinted version.
Spotted on the #RHOBH … Available at Amazon!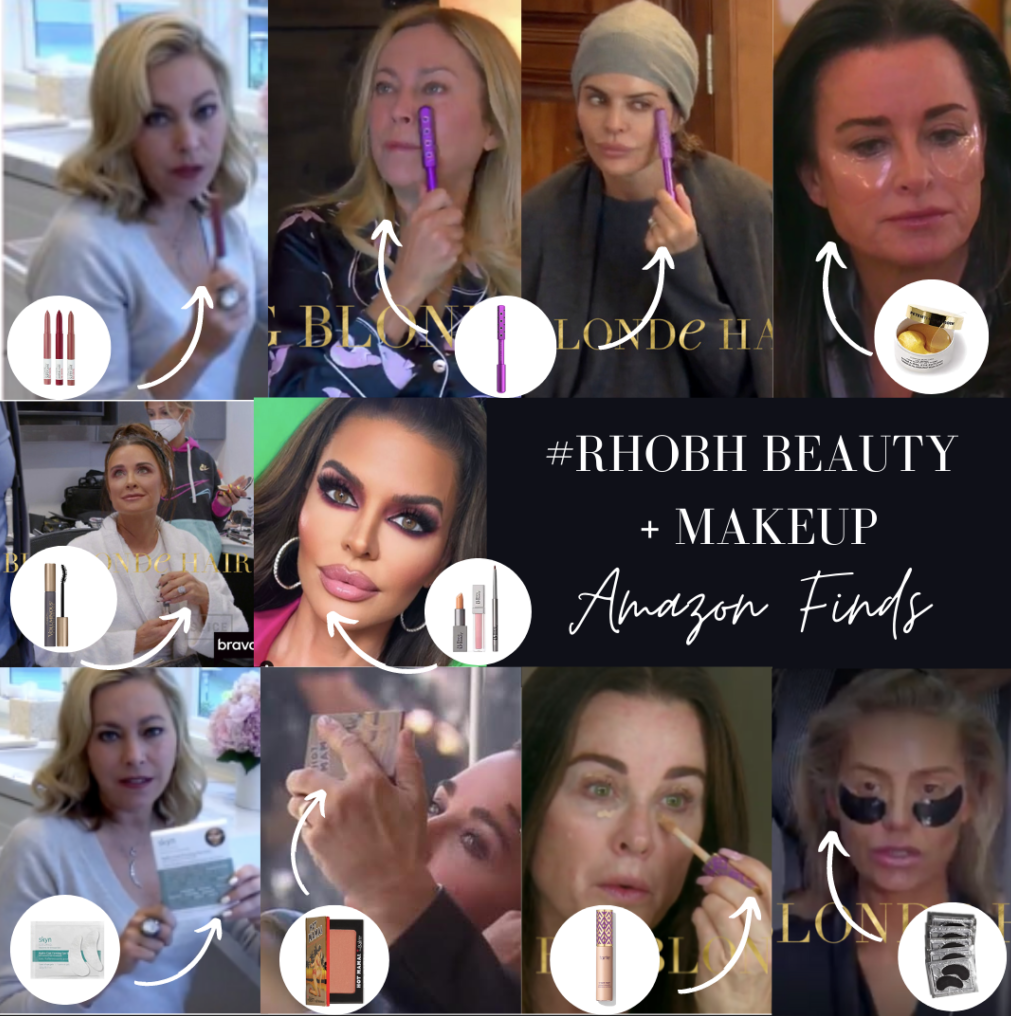 Sutton Stracke's Lip Crayon: Revlon Super Stay Lip Crayon in "Lead the Way" "Make It Happen" and "Enjoy the View" 2. Sutton Stracke, Kyle Richards and Lisa Rinna's Nurse Jamie Face Roller 3. Kyle Richards' Peter Thomas Roth Eye Masks 4. Kyle Richards' Loreal Voluminous Curved Brush Mascara 5. Sutton Stracke's Skyn Iceland Hydo Cool Firming Eye Gels 6. Kyle Richards' theBalm Hot Mama Multi-Use Blush 7. Kyle Richards' Tarte Shape Tape Concealer (the absolute best!) 8. Dorit Kemsley's Blaq Hyaluronic Plump and Purify Eye Mask 
Visit The Big Blonde Hair Amazon Store for More Finds
Shop Other
Celebrity Fashion